Malbec Mon Amour (Hardcover)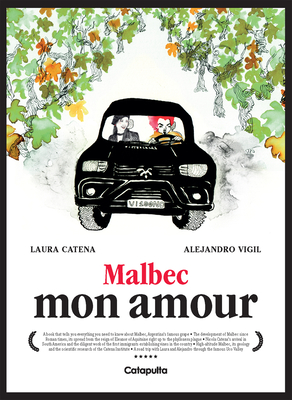 $24.99

Not in the store. We can order it and should have it in store in 3-5 business days.
Description
---
Laura Catena and the oenologist Alejandro Vigil, two leading figures in the world of wine, present Malbec Mon Amour. This book, which combines detailed expert information with beautiful drawings and images and fun anecdotes and facts, takes the reader on a fascinating journey through the history and development of Malbec as well as the different terroirs of Mendoza where the grape has thrived so well. In Malbec Mon Amour they tell us how and why Malbec became Argentina's iconic grape variety, establishing itself as the quintessential Argentine variety in elite wine circles. Learn all you need to know about Malbec, from its development since Roman times, and its spread from the reign of Eleanor of Aquitaine right up to the phylloxera plague. See how the wine grape changed with Nicola Catena's arrival in South America and the diligent work of the first immigrants establishing vines in the country. Take a road trip with Laura and Alejandro through the famous Uco Valley, featuring the history of high-altitude Malbec, its geology, and the scientific research of the Catena Institute.
About the Author
---
Dr. Laura Catena, a Harvard and Stanford trained biologist and physician, was born into one of the world's great wine families. After publishing Vino Argentino (Chronicle Books, 2010), Laura began to put together the materials for a book that would highlight the historical circumstances and relevant vineyard details that are at the core of the world's most iconic wines. Gold in the Vineyards received the 2019 award for "Best in Wine History" from Gourmand Cookbook Awards. Dr. Laura Catena has been named one of the top 25 wine innovators by Grape Collective. Alejandro Vigil is the most prestigious winemaker in Argentina. A graduate in agricultural engineering with a master's degrees in both winemaking and irrigation management, he began his career in Catena Zapata in 2002. In 2007 he was appointed Winemaking Director. Under Alejandro's direction, the winery was named New World Winery of the Year in 2010 by Wine Enthusiast and Winery of the Year in 2012 by Wine and Spirits Magazine. A naturally restless person, Alejandro strives to channel his creative energy into pushing the limits of conventional viticultural and winemaking wisdom.
Praise For…
---
"Malbec mon amour written by two directors at the Bodega Catena Zapata winery in Mendoza, tells the story of a grape that likes to travel. Though its roots go deep in France and its origins might be traced to ancient Rome, the malbec grape has become identified with Argentina. It was brought there in the mid-19th century, where it became the country's dominant red varietal. Dr. Laura Catena — a physician, the managing director of Bodega Catena Zapata, the founder of Catena Institute of Wine and a fourth-generation member of the Catena Zapata family in Mendoza — has written a lively illustrated book, "Malbec Mon Amour," with Alejandro Vigil, the wine director at the family's winery. It offers general yet detailed information about winemaking and malbec history; describes grape cultivation, terroir and the effects of climate change; explains the specific characteristics of malbec and why it's suited to conditions in Argentina, notably in the Cuyo region including Mendoza; and tells the story of the Catena Zapata family. For the professional, characteristics of the many Catena Zapata vineyards might be of interest." 
 —Florence Fabricant, The New York Times, January 19th, 2022

"Three is a number that is full of tension because it defies a casual "either/or" classification, and it is significant that  Malbec Mon Amour is built around a number of threes. There are, first of all, the book's three protagonists: Catena, Vigil, and Malbec itself. […] Then there are the three sides of Malbec as presented here. First is Malbec's history in France […] Then comes the history in Argentina […] And finally there is Malbec's history with the Catena family, since family is paramount here.
The book works at several levels and becomes more detailed and technical as the story unfolds. The final sections, which examine in some depth the particular regions and vineyards in Argentina is real wine-geek stuff. Except that the scientific tension is broken by a Catena-Vigil conversation about art, music, family, and even food. Malbec Mon Amour is a worthy addition to your wine bookshelf. Three cheers (of course!) for Malbec Mon Amour!"
 —Mike Veseth, The Wine Economist, January 25, 2022