Mediterranean Diet Cookbook: MEDITERRANEAN MAGIC - The Complete Plant-Based Meal Plan Packed With Hearty Vegetables, Fruits, and Lean Meat For Weig (Paperback)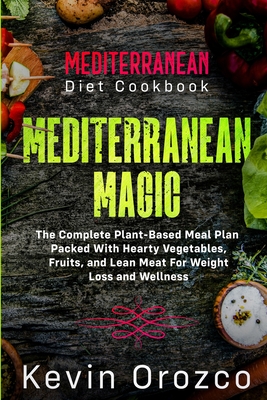 $25.99

Not in the store. We can order it and should have it in store in 3-5 business days.
Description
---
Discover The Power of The Mediterranean Lovers Diet For Yourself Today
The Mediterranean diet is quite simple. It involves eating traditional foods based on one's location. Typically, in the Mediterranean, that is a diet that is rich in veggies, fruits, whole grains, beans, and features olive oil as the fat of choice. Typically, it involves elements beyond just eating as well. While it is important to have healthy food, it is equally important to recognize that the diet encompasses the lifestyle as well. In particular, you can expect to see a few other rules come into play.
The Mediterranean diet is recommended by doctors and the World Health Organization as being not only healthy but also sustainable, meaning that it is something that is highly recommended, even by the experts. If you've found that you've struggled with weight loss, heart disease, managing your blood pressure, or anything similar to those problems, then the Mediterranean diet is for you. When you follow this diet, you are able to bring health back to your life and enjoy the foods while doing so. It's perfect if you want to be able to enjoy your diet without having to worry about the impacts that it will have on you.
In This Book You Will Find Mediterranean Recipes Such As:
✓ Turkey Mediterranean Casserole
✓ Sheet Pan Shrimp
✓ Chicken Shawarma Pita Pockets
✓ Lime Chile Steak Fajitas
✓ Pistachio Crusted Fish
✓ Shrimp Scampi and Zoodles
✓ Breakfast Quesadilla
✓ Beef Cabbage Skillet
✓ Mini Cheesecake
✓ Pork Chops and Blue Cheese Sauce
Mediterranean Feta Mac and Cheese
✓ Savory Mediterranean Breakfast Muffins
✓ Greek Yoghurt Parfait
✓ Garlic Roasted Salmon and Brussels Sprouts
✓ Braised Lamb and Fennel
✓ Spaghetti and Clams
✓ Harissa Pasta
✓ 1 Hour Baked Cod
✓ Lemon Herb Chicken and Potatoes One Pot Meal
✓ Mediterranean Mahi Mahi
✓ SLower Cooker Vegetarian Mediterranean Stew
✓ Moroccan Lentil Soup
✓ Tangy Pork Extravaganza
✓ Unbelievable Low Carb Surprise
✓ Gourmet Sirloin Option
✓ Shrimp Avocado Treat
✓ Burger Calzone Treat
✓ Rib Eye Steak
And so much more
Let's Get You To Your Goals ASAP
Pick up your copy of the book right now by clicking the BUY NOW button at the top of this page