Snare Drum Development L3 (Paperback)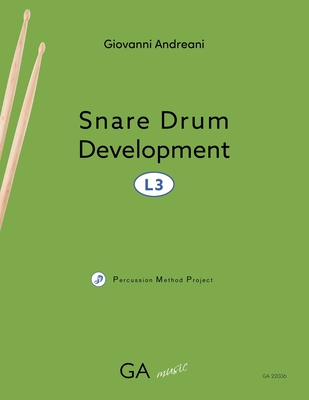 $21.99

Not in the store. We can order it and should have it in store in 3-5 business days.
Description
---
Snare Drum Development (SDD) and Drumset Development (DD) are, throughout the PercMP Development Areas, the main framework around which all other Development Areas orbit; these areas have been conceived to help percussion and drum teachers achieve a profound view of their student's improvements while guiding them throughout the higher levels of drum playing.
The student, while studying SDD, should be simultaneously working on DD: the level of DD should be one less than SDD's, thus, when beginning the second level of SDD the first level of DD can be introduced.
As progress is made, a new Development Area may be added: the more areas the student manages, the more profoundly competence and skills will grow; nonetheless, SDD and DD should be the only Development Areas on which the student will be working constantly.
SDD consists of short pieces that the student will have to prepare for the following lesson; how these pieces will be mastered is an issue to be pre-emptively clarified in order to positively monitor the student's progress. Therefore, the teacher will have to determine in advance which criteria to adopt when evaluating each piece and assigning a new one in its place.
The general complexity expressed at each level of SDD does not have to be comparable to the difficulty of other areas simultaneously studied, especially if related to repertoire. Indeed, the student may find him/herself studying a repertoire piece that is much more difficult than is expressed by the level required in SDD: this would be perfectly appropriate while the contrary would surely be unfitting. The time term of SDD is classified as VST while a repertoire piece may be classified from MT to VLT; therefore, the latter can be more complex.
In the pieces throughout all levels of SDD, rhythmic patterns and time signatures are gradually introduced: technical skills, rhythmic skills and a sense of meter will therefore gradually improve.
When composing these works, one of the main objectives was to supply both students and teachers with pieces in which the formal structures would well be identifiable, thus stimulating an attitude to analysing the pieces before studying them. Developing the ability to identify periods, phrases and motifs will surely allow the student to achieve a higher level of awareness; consequently, a higher degree of motivation for increasing one's technical skills will strongly improve. While performing these pieces the student will therefore not find him/herself playing a series of grooves, where a rhythmic motif or phrase is constantly repeated throughout the piece, but will be required to interpret, by considering the drum as a solo instrument, pieces with a musical meaning in their whole, even though they may, at a very first level, be only of eight measures long.
Snare Drum Development L3 is the third book of the SDD series, offering the continuation for a gradual formative path related to snare drum development.