Aventuras en Isla bosque / Adventures in Forest Island (LA TRIBU CHATARRA #2) (Hardcover)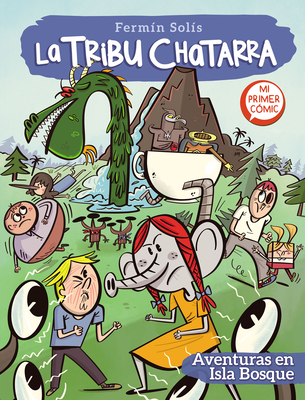 $15.95

Backordered at our distributor but we can check availability from the publisher.
Description
---
La segunda aventura de la Tribu chatarra, la divertida serie de cómic infantil de Fermín Solís

Después de escapar del malvado Señor Amo Supremo y dejar atrás Mundo Basura, nuestra querida tribu llega a un lugar nuevo y desconocido: Isla Bosque. Allí descubrirán que en el mundo hay más cosas que basura y chatarra, conocerán a divertidas criaturas y se encontrarán… ¡sorpresas monstruosas!

Un cómic perfecto para primeros lectores, con letra mayúscula y con diálogos sencillos y muy divertidos.

ENGLISH DESCRIPTION

This is the Junk Tribe's second adventure, the funny and incredible children's comic series by Fermín Solís.
 
After escaping from the evil Supreme Overlord and leaving Trash World behind, our beloved Junk Tribe arrives in a new and exciting place: Forest Island. There they will discover that there is more to the world than junk and trash, they will meet funny creatures, and monstrous surprises!
 
A perfect comic series for first readers, written in upper case for easy reading and with simple and funny dialogues.
About the Author
---
Fermín Solís (Madroñera, 1972) es historietista e ilustrador. Sus primeras páginas se publicaron en los fanzines Subterfuge y Cabezabajo, a las que siguieron obras de más largo aliento, de entre las que destaca el ciclo protagonizado por su alter ego Martín Mostaza: Los días más largos (2003; le valió el Premio al Autor Revelación en el Salón del Cómic de Barcelona 2004), El año que vimos nevar (2006) y Mi organismo en obras (2011). Fermín Solís se consolidó como uno de los autores españoles con más proyección de futuro e internacional con la publicación de la novela gráfica Buñuel en el laberinto de las tortugas (2008), finalista del Premio Nacional de Cómic y reeditada en color en 2019. En el ámbito infantil, es autor de las colecciones de cómic «Astro-ratón y bombillita» y «La tribu chatarra», así como de las novelas de la serie «Harry y Cerdon». Sus libros se han traducido y publicado también en Estados Unidos, Canadá, Reino Unido, Alemania y Francia.