Las brujas. (Novela gráfica) / The Witches. The Graphic Novel (Hardcover)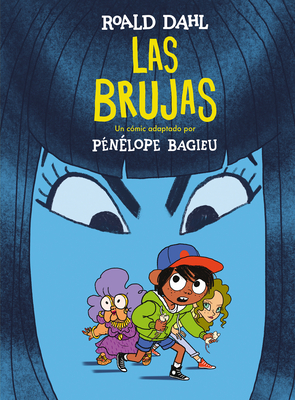 $29.95
Out of stock at the moment; would not arrive before the holidays.
Description
---
El clásico de Roald Dahl en novela gráfica, que será adaptado al cine en 2020 por Guillermo del Toro y Alfonso Cuarón.

Vuelve Roald Dahl, el mejor escritor de historias infantiles de todos los tiempos... ¡Y ahora en cómic!

 ¡Cuidado! Las brujas existen y se han disfrazado para pasar desapercibidas. ¡Parecen mujeres normales! Pero de normales no tienen nada. Estas brujas son malvadas y odian a los niños. Los odian tanto que deciden acabar con todos los niños del mundo convirtiéndolos en ratones.

Solo un niño y su extravagante abuela tratarán de evitarlo...

ENGLISH DESCRIPTION

Roald Dahl's darkly funny masterpiece, The Witches, now available as a graphic novel from Eisner Award-winning artist Pénélope Bagieu!

Witches are real, and they are very, very dangerous. They wear ordinary clothes and have ordinary jobs, living in ordinary towns all across the world - and there's nothing they despise more than children. When an eight-year-old boy and his grandmother come face-to-face with the Grand High Witch herself, they may be the only ones who can stop the witches' latest plot to stamp out every last child in the country!

This full-color graphic novel edition of Roald Dahl's The Witches, adapted and illustrated by Eisner Award-winner Pénélope Bagieu, is the first-ever Dahl story to appear in this format. Graphic novel readers and Roald Dahl fans alike will relish this dynamic new take on a uniquely funny tale.
About the Author
---
Roald Dahl nació en 1916 en un pueblecito de Gales (Gran Bretaña) llamado Llandaff en el seno de una familia acomodada de origen noruego. A los cuatro años pierde a su padre y a los siete entra por primera vez en contacto con el rígido sistema educativo británico que deja reflejado en algunos de sus libros, por ejemplo, en Matilda y en Boy.

Terminado el Bachillerato y en contra de las recomendaciones de su madre para que cursara estudios universitarios, empieza a trabajar en la compañía multinacional petrolífera Shell, en África. En este continente le sorprende la Segunda Guerra Mundial. Después de un entrenamiento de ocho meses, se convierte en piloto de aviación en la Royal Air Force; fue derribado en combate y tuvo que pasar seis meses hospitalizado.

Después fue destinado a Londres y en Washington empezó a escribir sus aventuras de guerra.
Su entrada en el mundo de la literatura infantil estuvo motivada por los cuentos que narraba a sus cuatro hijos. En 1964 publica su primera obra, Charlie y la fábrica de chocolate. Escribió también guiones para películas; concibió a famosos personajes como los Gremlins, y algunas de sus obras han sido llevadas al cine.

Roald Dahl murió en Oxford, a los 74 años de edad.