Digitalization of Power Markets and Systems Using Energy Informatics (Paperback)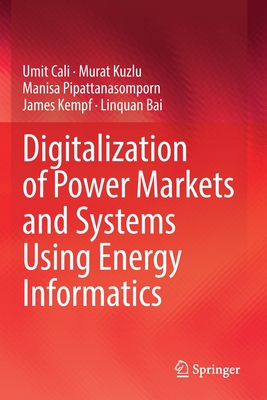 $71.99

Not in the store. We can order it and should have it in store in 3-5 business days.
Description
---
The objective of this textbook is to introduce students and professionals to fundamental principles and techniques and emerging technologies in energy informatics and the digitalization of power markets and systems. The book covers such areas as smart grids and artificial intelligence (AI) and distributed ledger technology (DLT), with a focus on information and communication technologies (ICT) deployed to modernize the electric energy infrastructure. It also provides an overview of the smart grid and its main components: smart grid applications at transmission, distribution, and customer level, network requirements with communications technologies, and standards and protocols. In addition, the book addresses emerging technologies and trends in next-generation power systems, i.e., energy informatics, such as digital green shift, energy cyber-physical-social systems (E-CPSS), energy IoT, energy blockchain, and advanced optimization. Future aspects of digitalized power markets and systems will be discussed with real-world energy informatics projects. The book is designed to be a core text in upper-undergraduate and graduate courses such as Introduction to Smart Grids, Digitalization of Power Systems, and Advanced Power System Topics in Energy Informatics.

About the Author
---
Umit Cali has 20 years of experience in academia and industry as consultant, project manager, professor, CTO, and Co-Founder. His current research interests include energy informatics, artificial intelligence, blockchain technology, renewable energy systems, and energy economics. Umit received his Ph.D. degree in electrical engineering & computer science from University of Kassel, Germany. He is currently an associate professor at the Department of Electric Power Engineering, Norwegian University of Science and Technology. He is co-founder of an US-based National Science Foundation supported start-up company named EnergyXchain LLC which is active in blockchain technology and energy domain. Umit is serving as Chair of IEEE TEMS Special Interest Group on Energy DLT and Vise Chair of IEEE Blockchain in Energy Standards Working Group (P2418.5). Murat Kuzlu (Senior Member - IEEE) joined the Department of Engineering Technology, Old Dominion University (ODU) in 2018 as an Assistant Professor. He received his B.Sc., M.Sc., and Ph.D. degrees in Electronics and Telecommunications Engineering from Kocaeli University, Turkey, in 2001, 2004, and 2010, respectively. From 2005 to 2006, he worked as a Global Network Product Support Engineer at Nortel Networks, Turkey. In 2006, he joined the Energy Institute of TUBITAK-MAM (Scientific and Technological Research Council of Turkey - The Marmara Research Center), where he worked as a senior researcher. Before joining ODU, he worked as a Research Assistant Professor at Virginia Tech's Advanced Research Institute. His research interests include smart grids, smart cities, smart metering systems, energy management systems, explainable artificial intelligence, wireless communication, and embedded systems.Manisa Pipattanasomporn, PhD, is an Associate Professor with the Smart Grid Research Unit (SGRU) at Chula-Longkorn University, and an adjunct instructor at the Virginia Tech Advanced Research Institute. Her research interests include smart grid, smart home, smart building, demand response, renewable energy integration, electric vehicles, Internet of Things (IoT), machine learning (with particular applications on energy savings), building-level load forecasting, and blockchain for peer-to-peer trading of solar electricity. Dr. Pipattanasomporn is also a guest lecturer at the International School of Engineering (ISE) and the Information and Communication Engineering (ICE).James Kempf, PhD, graduated from University of Arizona with a Ph.D. in Systems Engineering before going to work in Silicon Valley. Since then, Dr. Kempf has worked for a variety of tech companies, including Sun Microsystems, NTT Docomo, Ericsson, and most recently Equinix. Dr. Kempf started part time consulting with renewable energy startups on cloud computing and networking technology in 2016, and was an advisor to PV Complete, Extensible Energy and other greentech startups at the Powerhouse Solar Incubator in Oakland from 2016-2019. He has served on the Powerhouse Fund technical due diligence team and the Powerhouse Connector team, connecting with startups looking for help with cloud and networking issues for the DOE America's Solar Prize. Dr. Kempf has been a member of E8 cleantech angel investors since 2016, has served on the due diligence committee for one, and, in the summer of 2018, helped organize a workshop between Powerhouse and E8. Linquan Bai, PhD, is an Assistant Professor at the University of North Carolina at Charlotte (UNCC). He received his BS and MS degrees in electrical engineering from Tianjin University, and his PhD in electrical engineering from The University of Tennessee, Knoxville. Prior to working at UNCC, Dr. BaiI worked as a Research Aide at Argonne National Laboratory and as a Consulting Engineer on electricity markets and GridView software at ABB Power Grids, ABB Inc. His research interests are in the areas of DER optimization and control, power system operation under uncertainties, multi-energy system integration, and electricity markets. He is an IEEE Senior Member and serves as an editor of Journal of Modern Power and Clean Energy, Secretary of the IEEE Working Group on Data-driven DER Operation and Economics, Secretary of IEEE Task Force on Advanced Methods for Computational Intensive Power System Planning Applications, and was Session Chair of 2019 IEEE PES General Meeting and 2019 North American Power Symposium. Dr. Bai is the recipient of the 2020 John H. Maxheim Faculty Fellowship at UNC Charlotte.