Wicca: Starter Kit: Improve your life practicing rituals and spells using the natural powers of Herbal, Moon, Crystal and Can (Hardcover)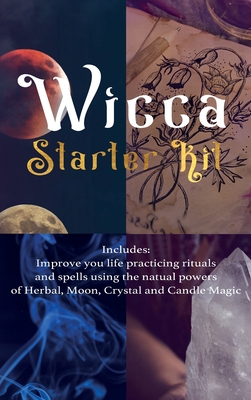 $45.00

Not in the store. We can order it and should have it in store in 3-5 business days.
Description
---
4 Manuscripts in 1 Book
Are you fascinated by the nature based religion of Wicca?
Are you interested in taking your spellcasting abilities from the basics to the next level?
Do you want to start practicing rituals using herbs, crystals, candles and the power of the moon?
If you want to know more about WICCA, the history and all the materials that you need to practice spells and ritual magic, then keep reading...
This book set includes:
Book 1) Wicca Herbal Magic: A magic book guide for Wiccans, Witches, Pagans and Witchcraft practitioners and beginners. Learn the power of herbs, plants, essential oils and how to practice simple herbal spells and rituals.
Book 2) Wicca Moon Magic: A Wiccan guide to learn the power of the moon and the mysterious lunar energies. Understand the phases of the moon and practice witchcraft rituals.
Book 3) Wicca Crystal Magic: A Wiccan guide of magical healing crystal to learn the secrets and the power of gems and stones. A fundamental illustration about crystals and how to practice rituals and crystal spells.
Book 4) Wicca Candle Magic: Fundamental guide for Wiccans, Witches, Pagans to perform rituals with candle magic spells. Learn how to use the energy of fire for purification and cleansing.
The first book "Wicca Herbal Magic" you will find information about the history of herbalism, the magical and medicinal uses of common plants and how to grow them. You will also discover the plants of the 8 Sabbats and rituals, and the plants associated with each of the 13 Esbat Moons.
The second book "Wicca Moon Magic" will explore everything you have always wanted to know about making magic by the light of the moon and how to make it the best magic possible. As the moon takes on the different phases, you will learn which magic is best during each phase. You will see how Wiccans use the movement of the moon to mark major events in their year.
The third book "Wicca Crystal Magic" provide you everything you need in order to start using crystals and gems in your spells. It's a comprehensive guide to crystal magic, from simple rituals to elaborate elemental fertility spells.
The fourth book "Wicca Candle Magic" will help you understand that fire is hugely significant to pagan rituals. With this book, you will learn how to set up your personal altar using different type of candles and casting spells that will change your life forever.
Below we explain the most exciting parts of the book set.
History of Wicca
Spells and rituals
Set up your altar
Magical tools
Herbs, Sabbat and Esbat celebrations, herbal teas, essential oils, and herbal potions
The moon phases
Crystals, rocks, minerals, and gems and their energy
Candle, power of fire and the use of different colors
And there's so much more to learn
Get your copy of Wicca Starter Kit today in order to open your world and your mind to the natural powers that can enrich and improve your life more than you ever thought possible.
The only thing standing in the way is you, so get started now Scroll up and click
BUY NOW button