Disability Visibility: First-Person Stories from the Twenty-First Century (Paperback)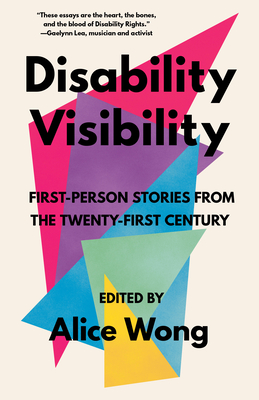 $17.00

Not in the store. We can order it and should have it in store in 3-5 business days.
Description
---
ONE OF THE PROGRESSIVE'S BEST BOOKS OF THE YEAR • One in five people in the United States lives with a disability. Some disabilities are visible, others less apparent—but all are underrepresented in media and popular culture. Now, just in time for the thirtieth anniversary of the Americans with Disabilities Act, activist Alice Wong brings together this urgent, galvanizing collection of contemporary essays by disabled people.

From Harriet McBryde Johnson's account of her debate with Peter Singer over her own personhood to original pieces by authors like Keah Brown and Haben Girma; from blog posts, manifestos, and eulogies to Congressional testimonies, and beyond: this anthology gives a glimpse into the rich complexity of the disabled experience, highlighting the passions, talents, and everyday lives of this community. It invites readers to question their own understandings. It celebrates and documents disability culture in the now. It looks to the future and the past with hope and love.
About the Author
---
Alice Wong is a disabled activist, media maker, and research consultant based in San Francisco, California. She is the founder and director of the Disability Visibility Project, an online community dedicated tocreating, sharing, and amplifying disability media and culture. Alice is also the host and co-producer of the Disability Visibility podcast and co-partner in a number of collaborations such as #CripTheVote and Access Is Love. From 2013 to 2015, Alice served as a member of the National Council on Disability, an appointment by President Barack Obama. You can follow her on Twitter: @SFdirewolf. For more: disabilityvisibilityproject.com.
Praise For…
---
ONE OF THE PROGRESSIVE'S BEST BOOKS OF THE YEAR • ENTROPY'S BEST OF NONFICTION

"Disability rights activist Alice Wong brings tough conversations to the forefront of society with this anthology. It sheds light on the experience of life as an individual with disabilities, as told by none other than authors with these life experiences. It's an eye-opening collection that readers will revisit time and time again." —Chicago Tribune

"Shares perspectives that are too often missing from such decision-making about accessibility." —The Washington Post

"Implicitly (and sometimes explicitly) makes the case for acknowledging and accommodating society's overlooked population of disabled people." —The New York Times Book Review

"An exemplary collection. . . . This month's #RequiredReading." —Ms. Magazine

"A raw, emotional collection, an investment in the power of storytelling to foster vibrant connections, and an unapologetic rejection of 'internalized ableism'. . . . The 37 powerful stories in Disability Visibility reveal the depth of everyday courage and the extraordinary human capacity to find humor in the face of life's adversities." —Shelf Awareness

"Roughly 15 percent of people around the world have a disability, and yet their stories are often never told. Alice Wong's anthology, Disability Visibility, brings their narratives front and center with the goal of showcasing the wide range of modern disability experiences. . . . Ultra-impressive." —Shondaland, "10 Books Set to Become the New Feminist Classics"

"By its very nature, the disability community is incredibly intersectional and diverse, including people from all walks of life, backgrounds, and cultures. Disability Visibility reflects that diversity with its contributors, giving . . . a look at a wide range of experiences and types of disability." —Book Riot

"Alice Wong . . . has long been at the forefront of the disability justice movement." —Bitch Media, "17 Books Feminists Should Read in June"

"More resonant than ever. In this kaleidoscopic collection, Wong and her contributors provide not just a snapshot of what disability has meant in the past 20 years, but an urgent invitation to take that understanding forward. . . . A landmark resource for understanding disability." —Autostraddle

"Diverse and poignant. . . . I was deeply moved by more pieces than I could name." —Shir Kehila, Columbia Journal

"Every piece in Disability Visibility evokes . . . tenacity, some gut-wrenching and others inspiring. . . . The range of subjects is impressive: assistive technologies, carceral injustice, fashion, homophobia and heterosexism, medical care and medical abuse, organizing strategies, psychotherapy, racism, relationships, sex, and sexism." —The Progressive

"Celebrates and documents the lived experiences, power, and culture of the disabled community." —Morning Brew

"Wong's discerning selections, bolstered by the activism that shines through, will educate and inspire readers." —Kirkus Reviews

"These essays are the heart, the bones, and the blood of Disability Rights." —Gaelynn Lea, musician and activist

"To Alice Wong, words like diversity and intersectionality aren't just buzzwords. They are marching orders. Everyone should take in the wisdom woven throughout this book." —W. Kamau Bell, host of United Shades of America

"A celebration and a source of deep education for many to bear witness (and feel seen by) the vastness of disabled stories, voices, and backgrounds." —Jennifer Baker, editor of Everyday People: The Color of Life

"As a Deaf Asian American, it wasn't until recent years that I started considering myself disabled. This is a very informed starting point for anyone who, like myself, would like to get a better understanding of disability as a massive and beautifully nuanced spectrum." —Christine Sun Kim, artist


Thank you for shopping local!