No Rules Rules: Netflix and the Culture of Reinvention (Hardcover)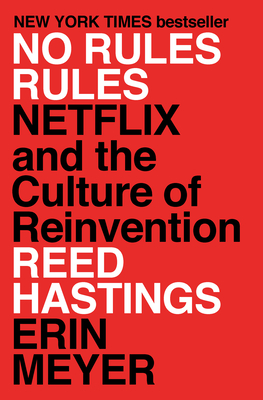 $28.00

Not in the store. We can order it and should have it in store in 3-5 business days.
Description
---
The New York Times bestseller

Shortlisted for the 2020 Financial Times & McKinsey Business Book of the Year

Netflix cofounder Reed Hastings reveals for the first time the unorthodox culture behind one of the world's most innovative, imaginative, and successful companies

There has never before been a company like Netflix. It has led nothing short of a revolution in the entertainment industries, generating billions of dollars in annual revenue while capturing the imaginations of hundreds of millions of people in over 190 countries. But to reach these great heights, Netflix, which launched in 1998 as an online DVD rental service, has had to reinvent itself over and over again. This type of unprecedented flexibility would have been impossible without the counterintuitive and radical management principles that cofounder Reed Hastings established from the very beginning. Hastings rejected the conventional wisdom under which other companies operate and defied tradition to instead build a culture focused on freedom and responsibility, one that has allowed Netflix to adapt and innovate as the needs of its members and the world have simultaneously transformed.

Hastings set new standards, valuing people over process, emphasizing innovation over efficiency, and giving employees context, not controls. At Netflix, there are no vacation or expense policies. At Netflix, adequate performance gets a generous severance, and hard work is irrel­evant. At Netflix, you don't try to please your boss, you give candid feedback instead. At Netflix, employees don't need approval, and the company pays top of market. When Hastings and his team first devised these unorthodox principles, the implications were unknown and untested. But in just a short period, their methods led to unparalleled speed and boldness, as Netflix quickly became one of the most loved brands in the world.

Here for the first time, Hastings and Erin Meyer, bestselling author of The Culture Map and one of the world's most influential business thinkers, dive deep into the controversial ideologies at the heart of the Netflix psyche, which have generated results that are the envy of the business world. Drawing on hundreds of interviews with current and past Netflix employees from around the globe and never-before-told stories of trial and error from Hastings's own career, No Rules Rules is the fascinating and untold account of the philosophy behind one of the world's most innovative, imaginative, and successful companies.
About the Author
---
Reed Hastings is an entrepreneur who has revolutionized entertainment since cofounding Netflix in 1997, serving as its chairman and CEO since 1999. His first company, Pure Software, was launched in 1991 and was acquired just before Netflix launched. Hastings served on the California State Board of Education from 2000 to 2004 and is an active educational philanthropist. He has sat on the board of several educational organizations including Dreambox Learning, the KIPP Foundation, and the Pahara Institute. He received a BA from Bowdoin College in 1983 and an MSCS in artificial intelligence from Stanford University in 1988. Between Bowdoin and Stanford, Reed served in the Peace Corps as a volunteer teacher in southern Africa.


Erin Meyer is the author of The Culture Map: Breaking Through the Invisible Boundaries of Global Business and a professor at INSEAD, one of the world's leading international business schools. Her work has appeared in Harvard Business Review, The New York Times, and Forbes.com. In 2019, Meyer was selected by the Thinkers50 as one of the fifty most influential business thinkers in the world. She received an MBA from INSEAD in 2004, and she currently lives in Paris, France. In 1994 and 1995 Meyer also served in the Peace Corps as a volunteer teacher in southern Africa. Visit erinmeyer.com for more information.
Praise For…
---
"Given the current hostility to the technology sector, the rejection of established H.R. wisdom and intensity of the organizational upheaval promoted by No Rules Rules may generate controversy. Mr. Hastings could have remained under the radar during the Silicon Valley's cultural maelstrom. Instead, he has entered the fray with an important contribution that provides the beginnings of a road map for the sector to regain trust. . . No Rules Rules demonstrates that it is not only possible to pursue both freedom and responsibility at the same time, but that for Silicon Valley and the rest of us to thrive together, it is essential." —The New York Times 

"Hastings, CEO and cofounder of Netflix, and Meyer, a business professor at INSEAD, team up to explore the organizational cultures, successes, and lessons learned within Netflix. . .  taking turns throughout the book to explain a situation or practice. This format feels conversational, and makes the book very easy to follow. . . Informative, thought provoking, and down-to-earth." —Booklist

"In alternating sections with Meyer, who provides elaboration based on more than 200 Netflix interviews, Hastings details the making of the Netflix way, from hiring the best creative talent at high pay to increasing candor through frequent feedback and gradually removing controls that stifle innovation. . . Fascinating story of a counterintuitive approach that apparently works." —Kirkus Reviews

"A fascinating analysis of Netflix. . . Highly recommended for leaders eager to build innovative, fast, and flexible teams." —Library Journal, starred review
 
"Aspiring tech moguls should flock to Hastings and Meyer's energetic and fascinating account." —Publishers Weekly

"I had the privilege of learning from Reed personally and studying the Netflix culture. The insights in this book are invaluable to anyone trying to create and sustain organizational culture." —Satya Nadella, CEO of Microsoft
 
"As the information age shrinks product cycles and compresses time frames, the most important business question of our era is, How do we keep innovating? In this breakthrough book, Reed Hastings and Erin Meyer provide the answer. They lay out a proven, systematic methodology for building, maintaining, and enhancing a highly innovative global culture. It is an amazing piece of work. Bravo!"—Ben Horowitz, cofounder of Andreessen Horowitz
 
"Reed Hastings learned early what it takes to build an enduring great company. Here in No Rules Rules, he and Erin Meyer teach the culture that propelled Netflix into one of the most distinctive and impactful companies on the planet. Packed with vivid specifics, they illustrate how Hastings melded a spicy concoction into a framework of freedom and responsibility. Well-written and fast-paced, timeless and timely, inspired and practical, smart and wise—read it and learn the Netflix secret sauce from the master himself!"—Jim Collins, author of Good to Great, co-author of Built to Last and Beyond Entrepreneurship
 
"Forget reinventing television; Reed Hastings' real achievement is reinventing corporate culture, and in No Rules Rules, Reed reveals all the tactics and processes that he's used to make Netflix one of the 21st century's most innovative companies. Clear, compelling, fascinating, and (for a book about Netflix), appropriately binge-worthy, No Rules Rules is the book I wish I had read when I was starting out, and it's the book I'll be giving to every CEO I work with. It's simply a must-have for any business leader."—Marc Randolph, Netflix co-founder and author of That Will Never Work: The Birth of Netflix and the Amazing Life of an Idea

 "Netflix's unique culture of freedom and responsibility and its flexibility to adapt are fueling its remarkable rise around the world. In No Rules Rules, Reed Hastings and Erin Meyer reveal the fascinating story of Netflix success, while providing actionable lessons for leaders on how to attract top talent and unleash their creative energies to drive excellence."—Susan E. Rice, former U.S. national security adviser and permanent representative to the United Nations
Thank you for shopping local!