Love to Eat: 75 Easy, Craveworthy Recipes for Healthy, Intuitive Eating [A Cookbook] (Hardcover)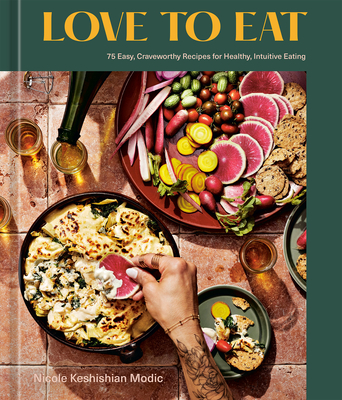 $32.50

Not in the store. We can order it and should have it in store in 3-5 business days.
Description
---
A balanced relationship with your food is within reach! These 75+ recipes offer the freedom to eat the foods you love, without guilt, and to live your damn life once and for all.
 
"Nicole's focus on wholesome recipes that fill your body and soul is such a balanced way to approach cooking, and will help encourage a healthy, loving relationship to food and your body."—Rachel Conners, author of Bakerita

In Love to Eat, Nicole Keshishian Modic teaches you how to listen to your body's cues around food, discover a more flexible relationship to your diet, and nourish your body with real, whole-foods recipes that celebrate flavor.
 
Growing up in Los Angeles, Nicole was surrounded by society's complicated views on women's bodies and countless diet crazes, but her Armenian father instilled his deep passion for food and flavor within her. Years of quietly suffering from an eating disorder led Nicole to find healing in the most unlikely place for her at the time—the kitchen—as she turned former binge foods into healthy but indulgent standards on her wildly popular blog, KaleJunkie.  
 
This inspirational cookbook is filled with recipes and inspirational stories to keep you feeling satisfied in body and mind. Nicole also shares her philosophy on what food freedom and intuitive eating truly mean (spoiler alert: Neither is about restrictive dieting!) and advice on how to carry that positive attitude into other aspects of your life. 
 
75+ recipes showcase Nicole's Armenian background, love of comfort foods, and passion for creative (and kid-friendly) plant-forward meals.
 
Discover dishes such as:
• Blueberry Pancake Bread Muffins
• Armenian Stuffed Bell Pepper Dolmas
• The Best Quinoa Tabbouleh
• Sweet and Sour Crunchy Cauliflower Bites
• One-Pot Penne Arrabbiata
• The Coziest Lemon Chicken Soup
• Sweet Potato S'Mores Cookies.
• Life-Changing Chocolate Chip Tahini Cookies

With accessible and nutritious recipes designed for real, busy life, Love to Eat proves that there is room for a juicy burger in a healthy lifestyle—as long as you're eating with purpose and listening to your intuition.
About the Author
---
Nicole Keshishian Modic is the force behind the popular Instagram account Kale Junkie and draws on her Armenian American heritage for inspiration in her recipes. Nicole has been featured in the New York Post and on Well+Good, mindbodygreen, and many others. Certified in functional nutrition, she's an influencer with connections to huge brands like Whole Foods and deep roots in the wellness community.
Praise For…
---
"Nicole's recipes never fail to impress and make my mouth water. Love to Eat is full of recipes that highlight her love of all things tahini, mouth-watering sweet and savory dishes, and her ingenious tips for making life easier in the kitchen, adding immeasurable value and deliciousness to your life and plate. Her focus on wholesome recipes that fill your body and soul is such a balanced way to approach cooking, and will help encourage a healthy, loving relationship to food and your body. You'll want to try every recipe!"—Rachel Conners, author of Bakerita

"Nicole embodies so much of what we all need more of: warmth, generosity, guidance, and dependability. You can rest assured that the beautiful, nourishing recipes in Love to Eat have been tested over and over with a steadfast commitment to detail and approachability. This book will help you not only become a better cook and baker, but a better friend to yourself."—Kathleen Ashmore, chef and producer

"There's not one page of this cookbook I haven't earmarked to make the recipe. Nicole has written a must-read primer for those who love food as much as they love their own health and wellness . . . no boring, basic 'rabbit food.' All good eats inside."—Kevin Curry, founder and author of FitMenCook

"Nicole's debut cookbook is filled with everything that I want to eat, hence the title, Love to Eat. Her way of making indulgent food healthy yet accessible shines through in recipes like the Life Changing Tahini–Chocolate Chip Cookies, or the Bakery-Style Morning Glory Muffin. Nicole also introduces us to her Armenian heritage through dishes such as the Hummus with Spiced Ground Beef & Pine Nuts that's sure to be in heavy rotation in my kitchen!"—Dzung Lewis, author of The Honeysuckle Cookbook
 
"Those in search of wholesome eats to satisfy their bellies as well as their emotions will find this endlessly inspiring."—Publishers Weekly