White Bird: A Wonder Story (CD-Audio)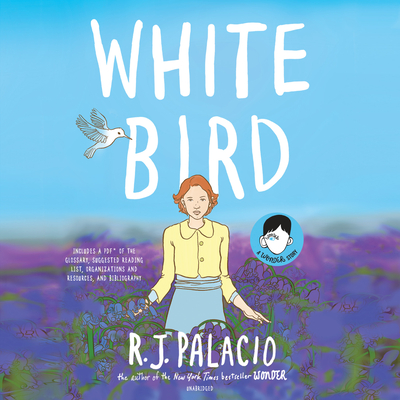 $25.00

Not in store, not in stock at our distributor. Once you place the order, we can give you a better time frame.
Fall 2019 Kids Indie Next List
---
"R.J. Palacio's White Bird is a gripping tale about the incredible power of kindness. This memorable graphic novel introduces readers to one of history's darkest eras. Fans of the Wonder stories will appreciate the tale of Julien's grandmother, and all readers will be inspired by White Bird's message of goodness in the face of evil."
— Christopher Rose, The Spirit of '76 Bookstore, Marblehead, MA
Description
---
Inspired by her blockbuster phenomenon Wonder, R. J. Palacio presents an unforgettable story of the power of kindness and unrelenting courage in a time of war.

In R. J. Palacio's bestselling collection of stories Auggie & Me, which expands on characters in Wonder, audiences were introduced to Julian's grandmother, Grandmère. Here, Palacio presents Grandmère's heartrending story: how she, a young Jewish girl, was hidden by a family in a Nazi-occupied French village during World War II; how the boy she and her classmates once shunned became her savior and best friend. 

Sara's harrowing experience movingly demonstrates the power of kindness to change hearts, build bridges, and even save lives. As Grandmère tells Julian, "It always takes courage to be kind, but in those days, such kindness could cost you everything." With poignant symbolism that brings Sara's story out of the past and cements it firmly in this moment in history, White Bird is sure to captivate anyone who was moved by the book Wonder or the blockbuster movie adaptation and its message.

This full-cast audio adaptation of White Bird transforms the graphic novel into a truly original audio performance.

This audiobook includes a PDF of the Glossary, Suggested Reading List, Organizations and Resources, and Bibliography.

Audio Narrators:
Grandmère, read by Hillary Huber
Sara Blum, read by Emily Ellet
Julian and Paul, read by Robbie Daymond
Maquisard and Monsieur Lafleur, read by Graham Halstead
Mademoiselle Petitjean, read by Lauren Ezzo
Jean Paul, read by Sean Patrick Hopkins
Max, Jerome, and Rabbi Bernstein, read by Robert Fass
Julien, read by Michael Crouch
Nazi Soldier, read by Tristan Morris
Pastor Luc, read by Adam Alexi-Malle
Vincent and a Nazi Soldier, read by P.J. Ochlan
Marianne and Ruth, read by Karissa Vacker
Rose, Sophie, and Madame Lafleur, read by Elizabeth Knowelden
Vivienne and Rabbi Bernstein's Wife, read by Lisa Flanagan

Praise for Wonder:
#1 New York Times bestseller
USA Today bestseller
Time Magazine's 100 Best Young Adult Books of All Time

"In a wonder of a debut, Palacio has written a crackling page-turner filled with characters you can't help but root for." --Entertainment Weekly

"Rich and memorable." --The New York Times

"A beautiful, funny and sometimes sob-making story of quiet transformation." --The Wall Street Journal
About the Author
---
R. J. Palacio is the author of the #1 New York Times bestseller Wonder, which has sold over 15 million copies worldwide. The book's message inspired the Choose Kind movement and has been embraced by readers around the world, with the book published in over 50 languages. Wonder was made into a blockbuster movie starring Julia Roberts, Owen Wilson, and Jacob Tremblay. Palacio's other bestselling books include Pony, 365 Days of Wonder: Mr. Browne's Book of Precepts, Auggie & Me: Three Wonder Stories, the picture book We're All Wonders, and the graphic novel White Bird, which is currently being filmed as a major motion picture starring Gillian Anderson and Helen Mirren. Palacio lives in Brooklyn with her husband, two sons, and two dogs.
Praise For…
---
A New York Public Library Best Book of the Year
Sydney Taylor Book Award Winner 

Praise for White Bird:

"At once expressive and chaste, an elusive but ideal combination." —New York Times

"A story that shows the impact of the Second World War and the rise of fascism on what had been a pastoral, fairy-tale childhood, with White Bird pulling no punches in connecting that historical moment to what's happening in the world today." —The Hollywood Reporter

"Extraordinarily powerful.... White Bird does not shrink from depicting the terror and violence of the Nazi occupation for younger readers, and respects the ability of those readers to handle strong material." —Forbes

"A must-read graphic novel that is both heart-rending and beautifully hopeful." —Kirkus Reviews, starred review

"A story of resistance, bravery, and survival.... This compelling story is served well by the graphic novel format." —Booklist

"Sure to be popular among fans of Wonder and educators who want to connect past to present." —School Library Journal

"R.J. Palacio brings to life the nature of heroism and the real risks we face today." —Meg Medina, Newbery award-winning author of Mercy Suarez Changes Gears

"Rare, superb, timely, and timeless." —Mark Siegel, author of the 5 Worlds graphic novel series