Little Monsters (Hardcover)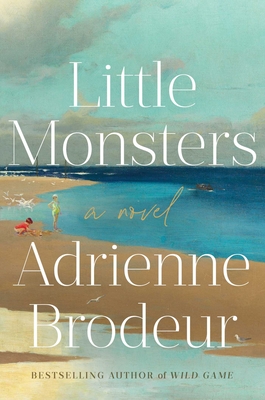 $28.00

Should be on our shelves now -- but wait for confirmation from us before coming to pick up. We'll respond to your order shortly.
July 2023 Indie Next List
---
"With inspiration from her memoir, Adrienne Brodeur knits a compelling novel of family secrets, complicated sibling relationships, and social commentary. The perfectly detailed Cape Cod setting makes this an ideal summer read."
— Rebekah Rine, Watermark Books & Cafe, Wichita, KS
Description
---
"A juicy story…Simmers with tension as secrets explode out into the open." —The Washington Post * "So alluring…I raced happily through the pages." —The New York Times Book Review * "An absolutely captivating read." —Elin Hilderbrand * "Gorgeously told…The work of a seasoned and wonderfully wise storyteller." —Paula McLain

From the author of the bestselling memoir Wild Game comes a riveting novel about Cape Cod, complicated families, and long-buried secrets—for fans of the New York Times bestsellers The Paper Palace and Ask Again, Yes.

Ken and Abby Gardner lost their mother when they were small and they have been haunted by her absence ever since. Their father, Adam, a brilliant oceanographer, raised them mostly on his own in his remote home on Cape Cod, where the attachment between Ken and Abby deepened into something complicated—and as adults their relationship is strained. Now, years later, the siblings' lives are still deeply entwined. Ken is a successful businessman with political ambitions and a picture-perfect family and Abby is a talented visual artist who depends on her brother's goodwill, in part because he owns the studio where she lives and works.

As the novel opens, Adam is approaching his seventieth birthday, staring down his mortality and fading relevance. He has always managed his bipolar disorder with medication, but he's determined to make one last scientific breakthrough and so he has secretly stopped taking his pills, which he knows will infuriate his children. Meanwhile, Abby and Ken are both harboring secrets of their own, and there is a new person on the periphery of the family—Steph, who doesn't make her connection known. As Adam grows more attuned to the frequencies of the deep sea and less so to the people around him, Ken and Abby each plan the elaborate gifts they will present to their father on his birthday, jostling for primacy in this small family unit.

Set in the fraught summer of 2016, and drawing on the biblical tale of Cain and Abel, Little Monsters is an absorbing, sharply observed family story by a writer who knows Cape Cod inside and out—its Edenic lushness and its snakes.
About the Author
---
Adrienne Brodeur is the author of the memoir Wild Game, which was selected as a Best Book of the Year by NPR and The Washington Post and is in development as a Netflix film. She founded the literary magazine Zoetrope: All-Story with Francis Ford Coppola, and currently serves as executive director of Aspen Words, a literary nonprofit and program of the Aspen Institute. She splits her time between Cambridge and Cape Cod, where she lives with her husband and children.
Praise For…
---
"A juicy portrait of a wealthy family on the brink of disaster. . . Little Monsters simmers with tension as secrets explode out into the open. . . Tensely constructed and absorbing. . . A consummate summer read, which somehow evokes smooth beach glass and hot pink sunsets with nary a mention of either." —The Washington Post

"[An] engaging and neatly plotted novel. . . Little Monsters is so alluring, with its sense of looming familial implosion within a cultural implosion. . . Brodeur is very deliberately examining a small family horror story within a larger political context." —The New York Times

"This smart, page-flipping novel has more secrets than you could successfully hide from your Sunday school teacher. . . [with] shades of Succession. . . Little Monsters offers the pleasures of a smart, absorbing debut novel." —The Boston Globe

"Adrienne Brodeur knows her way around a family drama. . . Brodeur weaves a story dense with stinging secrets and simmering resentments, rooted in another context that she knows well: the manicured towns and wild fringes of Cape Cod. . . Set against the island's rippling dune grasses and scrub pines, [the] narrative is as elegantly rendered as it is compulsively readable." —Vogue

"Adrienne Brodeur weaves a long braid of a tale. . . This family drama is set in a highly sensory way on the shores of Cape Cod, so much so you'll feel like your feet are digging into wet summer sand." —Good Morning America

"Compelling." —NPR's All Things Considered

"The book is brilliantly written. . . Each character's voice is vivid and strong, flawed, funny. My favorite theme is the family skeleton, we've all got them—unless you're from a functioning family, which in that case, congratulations. Any dysfunctional family knows about the family skeleton you grew up with and you pretended wasn't there, and you ignored, and at some time it bubbles to the surface. That's what happens in this book, it's brilliant and I hope you check it out!" —Jennette McCurdy, #1 New York Times bestselling author of I'm Glad My Mom Died

"Treat yourself to this novel's gorgeous writing and irresistible storyline." —Real Simple

"Written with a palpable love for this family and their Cape Cod home, Little Monsters tackles family trauma, forgiveness, and toxic masculinity." —Arianna Rebolini, Bustle

"Shimmering. . . With this intricate story, Brodeur distinguishes herself as a novelist of the first rank." —Publishers Weekly, *Starred Review*