Blood Money: The Story of Life, Death, and Profit Inside America's Blood Industry (Hardcover)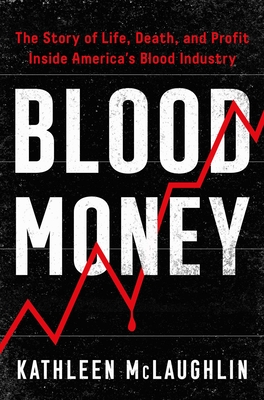 $28.00

Coming Soon - Available for Pre-Order Now
Description
---
Bad Blood meets Dreamland in this kaleidoscopic investigation into the shadowy and vampiric blood business and the dangerous limits of demand for the crucial resource that runs through our very veins.

Every year, about twenty million Americans sell blood plasma for cash in a barely regulated market dominated by private industry and off-the-grid trafficking. These commercial efforts prey on an insatiable market for medical and scientific innovation fed from the veins of some of the country's most marginalized communities, such as undocumented immigrants and residents of poverty-stricken Flint, Michigan.

We are often told that "blood donations" are used to save lives, but blood plasma, a component of whole blood, has become a precious commercial good. Blood plasma is collected and marketed by private industry, with the United States one of just five nations on the planet that have not yet banned the practice of pay-for-plasma giving. This precious resource is used for everything from expensive and unproven age-reversing treatments to costly and experimental cures for novel diseases like COVID-19.

Based on a cross-country investigation into the plasma-giving capitals of the country, in-depth research into the blood industry, and her personal experience as a beneficiary of plasma-derived treatment for a rare condition, Kathleen McLaughlin's Blood Money reveals the underhanded machinations and unbalanced power structures of the blood industry. Taking us from China's blood black market to Silicon Valley's shadowy tech startups, this is an unforgettable inside look at an industry many of us had no idea even existed. Blood Money is an electrifying exposé that demonstrates the shadowy overlap between big medicine and big business and paints a searing portrait of the extent to which American industry feeds on the country's most vulnerable.
About the Author
---
Kathleen McLaughlin is an award-winning journalist who reports and writes about the consequences of economic inequality around the world. A frequent contributor to The Washington Post and The Guardian, McLaughlin's reporting has also appeared in The New York Times, BuzzFeed, The Atlantic, The Economist, NPR, and more. She is a former Knight Science Journalism fellow at MIT and has won multiple awards for her reporting on labor in China. Blood Money is her first book.
Praise For…
---
"A disturbing, painful story that smoothly combines the personal and the universal." —Kirkus (starred review)

"McLaughlin — by all means a modern-day Barbara Ehrenreich — plunges into the world of blood plasma donation to weave together a vampiric real-life story of modern-day greed." —Leah Sottile, host of Bundyville and author of When the Moon Turns to Blood

"From AIDS-ravaged villages in China to mall plasma centers in the United States, Kathleen McLaughlin traces the veins of a worldwide blood industry that draws from the desperate and needy to create life-saving products. This sharp and compassionate book will make you see globalization, and healthcare, in a whole new light." —James Palmer, author of The Death of Mao and The Bloody White Baron

"Vampires walk among us, and Kathleen McLaughlin is unafraid to shine a torchlight on their sins. She illuminates the ways for-profit blood plasma firms feed on the most vulnerable—the poor, the forgotten, the oppressed—in the name of big medicine, big tech, and big business, squeezing literal blood money out of those who have already given too much."." —Kim Kelly, author of Fight Like Hell

"Blending memoir and reportage, journalist McLaughlin debuts with a disturbing look at the predatory nature of the blood plasma industry. A captivating and anguished exposé." —Publishers Weekly