Low Carb Snacks And Desserts: 63 Tasty Ketogenic Recipes For Your Favorite Meals On The Go: (low carbohydrate, high protein, low carbohydrate foods, (Paperback)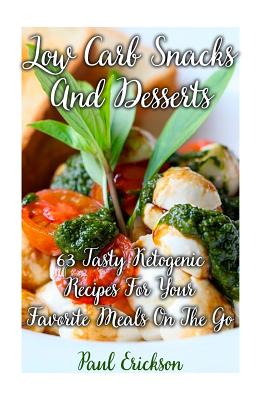 $9.98

Not in the store. We can order it and should have it in store in 3-5 business days.
Description
---
Getting Your FREE Bonus
Download this book, read it to the end and see "BONUS: Your FREE Gift" chapter after the conclusion.
Low Carb Snacks And Desserts: 63 Tasty Ketogenic Recipes For Your Favorite Meals On The Go (FREE Bonus Included): Book#1: Ketogenic Desserts, Muffins, Cinnamon Rolls, Cookies And Other Pastry Goodness: 33 Mouthwatering Recipes For Those Who Miss Carbs.
The Ketogenic diet is proving to be one of the most effective ways to easily melt through stubborn fat and reach the healthiest weight, for good The problem is that it can create cravings for unhealthy carbs such as muffins, cakes, and other mouthwatering delicious treats.
The truth is that most people will not be able to stick to a Keto diet, because it takes away some of the most delicious foods.
Finally, though You no longer have to feel deprived
You CAN stick to your Keto diet, and eat delicious foods and desserts at the same time
The "Ketogenic Desserts, Muffins, Cinnamon Rolls, Cookies and Other Pastry Goodness 33 Mouthwatering Recipes for Those Who Miss Carbs" recipe book is filled with taste bud tempting recipes that will not only satisfy your cravings, but will help you lose weight at the same time
Book#2: Ketogenic Snacks To Go: 30 Delicious Low Carb Snacks You Should Grab If You Are On Ketogenic Diet
We all want to lose weight and feel good about ourselves and how we look. We spend hours working out, we buy the right foods, we do the right things, but there always seems to be that one little issue that keeps coming back hand keeping us from reaching our goals.
What is this issue?
Hunger.
Every day, right about the same time, it strikes, and it can do a lot to change how our day goes. We have two options, ignore it and deal with the lack of focus and being in a bad mood, or we eat something and say goodbye to meeting our caloric goals for the day.
It seems like there is no way around this, but there is. This book is filled with recipes that are low carb and ketogenic diet friendly, so you can eat your snacks, lose the weight you want to lose, and say goodbye to that nagging hungry feeling that likes to creep up on you when you are going about your day.
Thank you for shopping local!