What Storm, What Thunder (Paperback)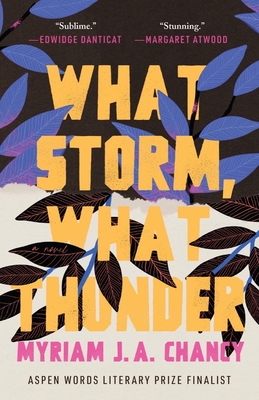 $17.95

Should be on our shelves now -- but wait for confirmation from us before coming to pick up. We'll respond to your order shortly.
Staff Reviews
---
When I opened this book and saw the dedication to the 250,000 300,000 people presumed killed in the Haitian earthquake of 2010, I was shocked and astonished, and ashamed that I hadn't realized/remembered the scale of devastation. This book reads like a testimony of the lives lost, upended, and scattered. Can a single book do justice to the memory of a cataclysmic event and all the millions effected by it? If any book can, it's this novel.
— Mary
October 2021 Indie Next List
---
"The 2010 Haitian earthquake and its aftermath is revealed to us through the stories of 10 intertwining lives, some who survive and others who perish. Stunning in its beauty, horror, and heartbreak."
— Alana Haley, Schuler Books (Grand Rapids), Grand Rapids, MI
Description
---
American Book Award Winner

Aspen Words Literary Prize Finalist

A NPR, Boston Globe, New York Public Library, Chicago Public Library, and Library Journal Best Book of the Year
"Stunning." —Margaret Atwood

At the end of a long, sweltering day, an earthquake of 7.0 magnitude shakes the capital of Haiti, Port-au-Prince. Award-winning author Myriam J. A. Chancy masterfully charts the inner lives of the characters affected by the disaster—Richard, an expat and wealthy water-bottling executive with a secret daughter; the daughter, Anne, an architect who drafts affordable housing structures for a global NGO; a small-time drug trafficker, Leopold, who pines for a beautiful call girl; Sonia and her business partner, Dieudonné, who are followed by a man they believe is the vodou spirit of death; Didier, an emigrant musician who drives a taxi in Boston; Sara, a mother haunted by the ghosts of her children in an IDP camp; her husband, Olivier, an accountant forced to abandon the wife he loves; their son, Jonas, who haunts them both; and Ma Lou, the old woman selling produce in the market who remembers them all.
Brilliantly crafted, fiercely imagined, and deeply haunting, What Storm, What Thunder is a singular, stunning record, a reckoning of the heartbreaking trauma of disaster, and—at the same time—an unforgettable testimony to the tenacity of the human spirit.
About the Author
---
Myriam J. A. Chancy, award-winning author of What Storm, What Thunder, is a Haitian-Canadian-American writer, the HBA Chair in the Humanities at Scripps College in Claremont, California, and a Fellow of the John Simon Guggenheim Memorial Foundation.
Praise For…
---
A heartbreaking tale of regret and resilience, and a fiery rebuke of racism, violence and greed.
— TIME
A stunning commentary on racism, sexual violence, capitalism and the resilience required to rebuild a life.
— The Washington Post
A gorgeous, intimate voice. . . . A reminder of the extraordinary resilience, then as now, of the Haitian people.
— People Magazine
Searing. . . . Chancy's fictional portrait of the survivors and victims is both ode and elegy.
— Oprah Daily
Not since W. G. Sebald has somebody succeeded in evoking such a rich
sense of the history of disaster. . . . She has unimpeachable
credibility—and a clear purpose: People do persist, not merely suffer.
— NPR Books
Written by a Haitian Canadian American author, this novel paints
Haiti's 2010 earthquake and its aftermath through 10 points of view,
from a wealthy water executive to an architect returning from Rwanda to
deal with the earthquake's aftermath.
— The New York Times Book Review
Incredibly powerful.
— BuzzFeed
Many of us are hungry for stories of survival and resilience in this precarious world where the for-grantedness of life is fractured. This book delivers.
— The San Francisco Chronicle
An elegiac and moving portrait of Haitians as they experienced the devastating 2010 earthquake in Port-au-Prince, this novel offers an ensemble of resilient, hopeful characters, haunted by those they mourn, but faithful for a better future.
— The Boston Globe
This is fiction as an act of bearing witness. . . .Chancy's lush
prose engages shifting and intersecting points of view that reflect the
contours of an island nation borne of anti-colonial rebellion.
— Vulture
Unmissable.
— Harper's Bazaar
Chancy promises to illuminate the lives of people who in America are often fleeting visions on 24-hour news channels, noticed only when disaster happens.
— The Chicago Tribune
Compelling. . . . Chancy
offers her readers the rare opportunity to view the earthquake's
aftermath from multiple angles, with every shadow of doubt, every
glimmer of hope, illuminating the ever-expanding history of the
catastrophe and its devastation.
— BOMB Magazine
Unforgettable.
— New York Public Library
Masterfully written and unforgettable.
— Chicago Public Library
Enchanting in its complexity, inviting but also deeply haunting.
— The Rumpus
Fascinating. . . . intimately written in such a way that you feel it.
— NPR Pop Culture Happy Hour
Remarkable. . . . Every element of the writing and characterization delivers a poignant experience.
— Booklist
Devastating. . . . Extraordinary.
— Alma
Heartbreaking and haunting, this exploration of life in Port-au-Prince, Haiti, after it's hit by a 7.0 magnitude earthquake is sure to stay with you.
— Ms. Magazine
A really beautiful, incredibly powerful portrait of a community.
— Boston.com
Powerful and compelling.
— Largehearted Boy
This novel, narrated by a cast of courageous and compelling characters, resonates with hope and resilience.
— BookBrowse
Lending her voice to ten survivors whose lives were indelibly altered by the January 12, 2010 earthquake in Haiti, Myriam J. A. Chancy's sublime choral novel not only describes what it was like for her characters before, during, and after that heartrending day, she also powerfully guides us towards further reflection and healing.
— Edwidge Danticat, author of Everything Inside
A beautiful, haunting chorus of voices. This is a heartbreaking book, a striking achievement.
— Zinzi Clemmons, author of What We Lose
A gorgeous and compulsively readable page-turner in the most haunting and stunning prose. If you love the works of Jesmyn Ward, Edwidge Danticat, and J. M. Coetzee, this is the book for you! Absolutely breathtaking!
— Angie Cruz, author of Dominicana
Myriam J. A. Chancy is a masterful writer. The book is devastating and tender, but it is not a spectacle of sadness—it is a show of humanity and care in the midst of great violence.
— José Olivarez, author of Citizen Illegal
An affecting and immersive—an important—book.
— Dan Vyleta, Scotiabank Giller Prize-shortlisted author of The Crooked Maid, Smoke and Soot
One of the finest examples of someone writing from a place of deep love and deep grief simultaneously—the story itself is wondrous and very, very human.
— Omar El Akkad - CBC.COM
Virtuosic.
— The Globe and Mail
Riveting.
— Haitian Times
Beautiful and breathtaking.
— Asterix Journal
Weaves together stories that will both break your heart and highlight the resilience of survivors.
— The Mary Sue
Deeply haunting.
— SheReads
Poignant.
— Poets & Writers
Masterful.
— Black Book Stacks
A must-read. . . . a singular story of strength, sorrow, heartbreak, and love.
— Apartment Therapy
A plaintive and beautiful love song to Haiti.
— New Books Network
What Storm, What Thunder
is a beautiful book. . . . Myriam's novel makes what was lost when the earth opened up so clear.
— Read More Podcast
The voices are weaved together effortlessly, each more mesmerizing than the last.
— Louisa Ermellino - Publishers Weekly
Extraordinary. . . . lyrical. . . . dazzling. . . . Each of the voices entrances, thanks to Chancy's beautiful prose and rich themes. This is not to be missed.
— Publishers Weekly, Starred Review
Unforgettable. . . . a devastating, personal and vital account.
— Kirkus, Starred Review
A soaring, heartbreaking symphony.
— Library Journal, Starred Review