Sacred Sendoffs: An Animal Chaplain's Advice for Surviving Animal Loss, Making Life Meaningful, and Healing the Planet (Paperback)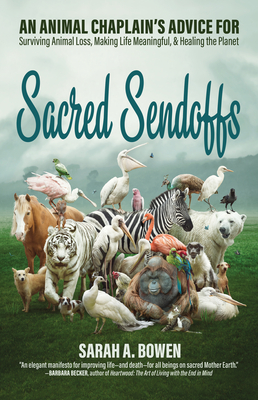 $16.95

Should be on our shelves now -- but wait for confirmation from us before coming to pick up. We'll respond to your order shortly.
Description
---
An elegant manifesto for improving life―and death―for all beings on sacred Mother Earth"If there is one book you choose to read about how to enjoy and improve your relationships with animals and fully appreciate who they truly are, this is the one." ― MARC BEKOFF, author of The Emotional Lives of Animals and other books; Professor emeritus of ecology and evolutionary biology at the University of Colorado, BoulderCombining humorous anecdotes and thought-provoking research, Sacred Sendoffs explores human relationships with beloved pets, wild creatures, animal astronauts, marine life, farmed animals, and other sentient beings. Along the way, animal chaplain Sarah Bowen shares insights for sustaining their lives, honoring deaths, and managing the emotions that arise when we lose an animal we love. While many books focus exclusively on pet loss, animal welfare, or environmental issues, Bowen's ever curious and playful style takes on all three, revealing their unavoidable entanglement. Sacred Sendoffs helps animal lovers uncover practical actions and everyday opportunities for helping the more-than-human world thrive."Bowen covers a great deal of ground here, creating a new paradigm for thinking about the way we treat our closest companions and fellow beings. And she offers hope for the future, reminding us that learning to value animals in life and death may be the first step toward saving our beloved planet." ― Book Review, Spirituality & Health Magazine
About the Author
---
Sarah Bowen is an animal chaplain and advocate for all creatures. She offers workshops on interspecies mindfulness practices, works with humans around animal grief/loss, and advocates for exploited and endangered species within both religious and secular contexts. You can often find her huddled over wildlife struck by cars, giving them a sacred sendoff. Bowen is also a cofounder of Compassion Consortium, the first interfaith, interspiritual, and interspecies faith community, an academic dean at One Spirit Interfaith Seminary; a columnist on animal/human relationships for Spirituality & Health magazine; and the author of two award-winning books on modern spirituality, including Spiritual Rebel. Her work has also appeared in Tricycle: The Buddhist Review, Elephant Journal, mindbodygreen, and on a wide range of podcasts. She holds a BA in Human Ecology, MA in Religious Studies, and is joyfully engaged in postgraduate research in Humane Religious Studies and Anthrozoology.