This Boy We Made: A Memoir of Motherhood, Genetics, and Facing the Unknown (Hardcover)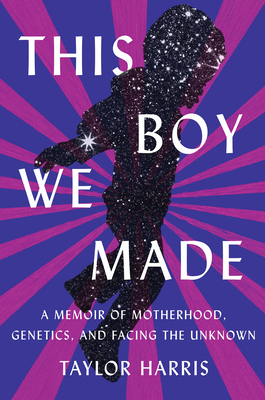 $26.00

Not in the store. We can order it and should have it in store in 3-5 business days.
January 2022 Indie Next List
---
"This book is heart-wrenching. I couldn't put it down. As a mother I was absolutely enveloped in the author's journey through this incredibly difficult time. I was in awe of her grace in dealing with what life continued to throw at her."
— Rayna Nielsen, Blue Cypress Books, New Orleans, LA
Description
---
A Black mother bumps up against the limits of everything she thought she believed—about science and medicine, about motherhood, and about her faith—in search of the truth about her son.

One morning, Tophs, Taylor Harris's round-cheeked, lively twenty-two-month-old, wakes up listless, only lifting his head to gulp down water. She rushes Tophs to the doctor, ignoring the part of herself, trained by years of therapy for generalized anxiety disorder, that tries to whisper that she's overreacting. But at the hospital, her maternal instincts are confirmed: something is wrong with her boy, and Taylor's life will never be the same.

With every question the doctors answer about Tophs's increasingly troubling symptoms, more arise, and Taylor dives into the search for a diagnosis. She spends countless hours trying to navigate health and education systems that can be hostile to Black mothers and children; at night she googles, prays, and interrogates her every action.

Some days, her sweet, charismatic boy seems just fine; others, he struggles to answer simple questions. A long-awaited appointment with a geneticist ultimately reveals nothing about what's causing Tophs's drops in blood sugar, his processing delays—but it does reveal something unexpected about Taylor's own health. What if her son's challenges have saved her life?

This Boy We Made is a stirring and radiantly written examination of the bond between mother and child, full of hard-won insights about fighting for and finding meaning when nothing goes as expected.

About the Author
---
Taylor Harris is a writer, wife, and mom of three who lives in Charlottesville, Virginia. Her work has appeared in TIME, O Quarterly, The Washington Post, Longreads, The Cut, Romper, Parents, McSweeney's, and other publications.
Praise For…
---
Essence, A Most Anticipated Title of the Year
An Electric Literature Most Anticipated Title of the Year
The Millions, A Most Anticipated Book of the Year

"Taylor Harris has masterfully captured the wonder and weight of the endurance race that is motherhood. Mothering in the face of illness and uncertainty as a Black woman is downright Olympian. Harris' beautiful, crisp prose drew me right into her family's journey. Their story is heart-wrenching, hopeful, and truly unforgettable." —Deesha Philyaw, author The Secret Lives of Church Ladies

"Harris's prose hugs readers like lifelong confidants, transforming them into inner-circle champions of her graceful fight . . . The memoir dedicates important space to the numbing bureaucracy that often accompanies medical visits, particularly as seen through the eyes of a Black woman in the South. Having moved often within white neighborhoods and educational institutions around her home in Charlottesville, Harris is unflinching about her periodic unease in those quarters . . . Harris also brings humor to bear in moments of great adversity." —Karen Iris Tucker, The Washington Post

"In her debut book, she carefully collects the pearls of experience and strings them together in a wide-ranging and profound memoir, exploring her relationship with God—first as an anxious child and then as a concerned mother—but also her frustrations as a Black woman seeking answers from a dismissive establishment, alongside daily struggles any parent would find familiar." —Lorraine Berry, Los Angeles Times

"An affecting, razor-sharp debut . . . This Boy We Made blows up the stale formulas of trauma memoir, implicating us in Harris's most intimate and terrifying moments, and those of her family, with candor and cool precision . . . This Boy We Made not only reflects broader social reckonings, it is itself a reckoning, illuminating inequities entrenched not only within our justice system, but also within seemingly neutral institutions, such as health care. Mostly, it's a scrupulous, moving read that deserves a wide audience, one inspired to push for change in a plethora of arenas." —Hamilton Cain, The Boston Globe

"This candid and sensitive debut lovingly describes the heartwrenching story of mothering a child who becomes inexplicably ill and the challenges of navigating racism, parenting traditions and science in seeking to make him well." —Karla Strand, Ms. Magazine

"Gripping . . . With tender, evocative prose, the author executes a daunting undertaking: to floodlight the intersection of two 'burdens—Black and undiagnosed—in a world that is comfortable with neither.' The result is alternately heartwarming and enraging." —Maddie Bender, Scientific American

"A crucial examination of the challenges of raising a Black son in America and how the healthcare industry fails people of color, Harris's debut memoir is so much more than the story of a perplexing medical mystery." —PureWow

"Moving . . . Wholehearted and captivating." —Bust

"Taylor Harris beautifully and heartbreakingly describes how [a mother's] fear struck like a lightning bolt when her son Tophs began to experience a string of health issues that baffled medical experts . . . Harris [...] tells her story with raw candor and wit . . . This Boy We Made is many books in one, combining elements of science and medicine, mental health and wellness, parenting principles and institutional racism. Fusing all these themes together in an entertaining and thoughtful way would seem an exhausting task, yet Harris does it with honesty and grace. With descriptive, poetic prose, her authentic message commands the reader's full attention." —Becky Libourel Diamond, BookPage

"Get your tissues ready: This is a gorgeous, heart-squeezing story of motherhood, family, and faith . . . It's a beautiful story of a mother's love for her son, and how the ordeal changed her." —Liberty Hardy, Book Riot

"[A] stunning debut . . . Heartfelt and raw . . . Out of that uncertainty grew a love and calmness that Harris couldn't have foreseen, and a story of acceptance that mesmerizes with its vulnerability . . . This is astounding." —Publishers Weekly (starred review)

"The author deploys humor and delight to infuse the narrative with nuance and hope, and her frank, vulnerable voice makes the book feel like a conversation with a close friend . . . A compelling, insightful memoir about parenting through the unknown." —Kirkus Reviews

"Part parenting memoir, part spiritual guide, part anti-racist hymn, This Boy We Made is a captivating, necessary story for our time. With grace, humor, and truth, Taylor Harris shows us how to live—and love—inside life's vast question marks. Her sentences glow and sing. She is the warm, witty, wise companion we all need in a life filled with uncertainty." —Heather Lanier, author of Raising a Rare Girl

"Taylor Harris takes us on an unforgettable journey through the impossible tangles of America's healthcare system and lets us see firsthand all tiers of stakes that come with Black motherhood in this America. Disability, race, gender, class—every failing of our society and its frustrating promises of our security and freedom is examined here with clarity, courage, and so much love. The admiration I have for Harris extends far beyond her outstanding skills as a writer even—the blessing of her heart and mind truly transcend any ordinary reading experience! This is one of the most necessary entries in the medical/disability memoir canon yet." —Porochista Khakpour, author of the acclaimed memoir Sick

"My rule to read everything Taylor Harris writes has never failed me. With wisdom, earnestness, and no small amount of humor, she reflects on parenthood and all of the unanswerable questions it raises, exploring what it means to love a child precious to but distinct from you; to wonder about mysteries you may never solve and a future you cannot possibly know. This Boy We Made is a courageous, exquisite memoir, one that will inspire and help readers understand how we can brave the unknown while living in hope." —Nicole Chung, author of All You Can Ever Know: A Memoir