Wonder Travels: A Memoir (Paperback)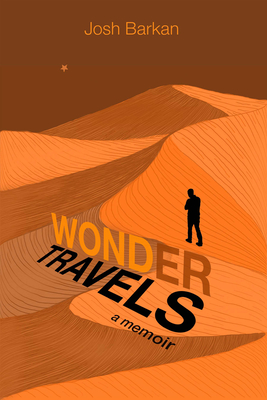 $20.00

Should be on our shelves now -- but wait for confirmation from us before coming to pick up. We'll respond to your order shortly.
Description
---
A New Memoir from prize-winning author Josh Barkan.
Can we ever really know another person? When, after fifteen years of marriage, his wife has an affair with a man she meets on the beach in Morocco, writer Josh Barkan grapples with this question. In this fearless, breathtakingly candid memoir, he maps a painful odyssey from New York to El Paso to the Apache Kid Wilderness to Mexico City, where he falls in love with a painter who begins to heal him. But two years after his wife's affair, questions still haunt him. Why did she betray him, and with whom? With no more than a cell phone number, Barkan travels to Morocco to find his wife's lover and confront his own past. WONDER TRAVELS marks the arrival of an important new voice in memoir.
"An emotional and physical odyssey . . . WONDER TRAVELS is an epic journey story of travel through both inner psychic territory and the external world. . . Both the author's interior landscape and the expressionistic backdrop of the places he careens through are rendered with vivid detail. . . Perhaps writing the memoir, pinning the experience on the page, is really the last time this brave and powerful writer needs to tell this story. WONDER TRAVELS is not an easy read, but it may serve as a guide, and the author a companion, for others trying to navigate a lonely, dark wood of broken assumptions and promises, trying to find a path toward tentative, qualified hope."--New York Journal of Books
"In this compulsively readable memoir, Josh Barkan does something remarkable: he combines the edifying power of the travelogue with the emotional truth-seeking promise of the memoir, taking us through the streets of New York to the wilds of Mexico, through Madrid and Marrakesh and the mountains of Morocco, through the piazzas of Rome then back to Mexico, all from the point of view of a man trying to stitch back together his shattered heart. WONDER TRAVELS is a profound meditation on the inherent fragility of marriage, on what it means to love well and to be loved in return, on the elusiveness of forgiveness, but ultimately on spiritual resilience and wandering's potential ability to truly heal. This is a brave, thought-provoking, and moving memoir, and I recommend it highly."--Andre Dubus III, author of Townie: A Memoir
"In WONDER TRAVELS, Josh Barkan writes about the dissolution of his marriage with an honesty that is illuminating and sometimes uncomfortable. This is an unflinching and highly readable memoir about one man's slow recovery from heartbreak."--Tom Perrotta, author of Little Children
"Josh Barkan has written a searingly honest investigation of the end of his own marriage--a relentless quest to understand love, betrayal and the power of humiliation over the human soul. It is a painful journey, but the reader cannot turn away from Barkan's masterfully written mystery story."--Kai Bird winner of the Pulitzer Prize for Biography
"Barkan takes us on a brave tour through marriage and divorce and the Western Hemisphere. It's a sort of Anna Karenina written from Karenin's point of view, with amazing frankness. And at the same time, while looking for the trails of infidelity, we travel to Morocco, Spain, Paris, Rome, soul-searching. After all the upheavals, Barkan reaches a state of ataraxia, and manages to look into the past to see not only the pain and suffering but the beauty and adventure. This memoir/roman a clef, is a veritable page turner, with absolute narrative freedom. Barkan is a master tour guide of the human soul."--Josip Novakovich, finalist for The Man Booker International Prize and winner of the American Book Award
Literary Nonfiction. Memoir.