The Mess That We Made (Hardcover)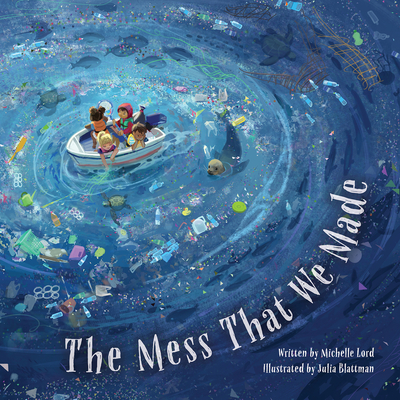 $18.95

Not in the store. We can order it and should have it in store in 3-5 business days.
Description
---
The Mess That We Made explores the environmental impact of trash and plastic on the ocean and marine life, and it inspires kids to do their part to combat pollution. Simple, rhythmic wording builds to a crescendo ("This is the mess that we made. These are the fish that swim in the mess that we made.") and the vibrant digital artwork captures the disaster that is the Great Pacific Garbage Patch. Children can imagine themselves as one of the four multi-ethnic occupants of the little boat surrounded by swirling plastic in the middle of the ocean, witnessing the cycle of destruction and the harm it causes to plants, animals, and humans. The first half of the book portrays the growing magnitude of the issue, and the second half rallies children and adults to make the necessary changes to save our oceans. Facts about the Great Pacific Garbage Patch, ocean pollution, and how kids can help are included in the back matter.
About the Author
---
Michelle Lord has written several books for children, including A Song For Cambodia, Nature Recycles, and Animal School: What Class Are You?, which received a starred review from Kirkus. Julia Blattman has worked as a visual development artist for animated feature films and Disney mobile games. This is her first picture book.
Praise For…
---
"Our lives depend on the ocean. Fish consume our waste and then end up on our dinner plates. I hope that this beautifully illustrated book will serve as a tool to pass on the importance of the ocean to future generations and beyond." —Yohei Sasakawa, Chairman of The Nippon Foundation and founder of Change for the Blue

"This outstanding story superbly visualizes pollution problems with art that hits the spot….It is sure to inspire our young conservationists-in the-making to work toward a sustainable ocean environment." —Briggette Dusart, Cleaner Ocean Foundation

"Great book! Inspires a love for stewardship of the ocean in today's youth so that the next generation will not repeat The Mess That We Made. There is always hope in the next generation, a hope that they will create a healthier, more sustainable ocean." —Anthony Saner, Director of ReefCI (Reef Conservation International)

"With one turn of the page, [the] heavy feeling of deep-sea despair quickly becomes a promise for a healthier, happier tomorrow... Use this ocean gem to springboard not only a discussion but also to ignite goals for actionable ways to reduce our landfills and conserve our resources." —Barbara Gruener, Corner on Character

"In a world full of beauty and such promise, Lord sends a gentle message to a young audience about the damage taking place in the ocean – caused when trash is dumped in the waters by us humans. The Mess That We Made is an educational children's book. The first half of the book explores what happens to marine life when the waters are polluted and the devastating ripple effect it causes in the world. But the second half of the book shows how meaningful changes can still save the day and how we can all do our part to create a clean and healthy place for everyone. This message will not scare children as the author chooses her words wisely and creates a rhythmic and fun pace. And the colorful images will captivate readers with the turn of every page. The bright and tasteful artwork will educate little ones (and big ones too) and inspire young minds so that when they grow up they can help lead the way to protect and preserve our waters. It is a brilliant way to help start a conversation about ocean pollution and encourage such needed change in the world. This book deserves a spot on every library, classroom, and home shelf. It teaches children important facts about the Great Pacific Garbage Patch and about calls to action. It will hopefully shape the minds of our future leaders. If you are considering a new book for your children or your classroom in the new year, please consider getting a copy of this powerful picture book." —Christa McGrath, EBC Reviews 

"In an informational picture book about oceanic pollution, Lord and Blattman present a clear and realistic message to young readers in a surprisingly enjoyable package. The rhyming text is in the style of The House That Jack Built, with each of the stanzas ending with "the mess that we made." This phrase refers to enormous garbage patches made up largely of plastics and caused entirely by human beings. The "we" in the text is important, as Lord does not shy away from our collective responsibility to the earth's oceans and its animals. However, she ends on an uplifting note. Comprehensive back matter elaborates on each of the repeated phrases, describing how each animal is affected by pollution, why plastics are particularly problematic, and ways that children can make a difference. This includes individual acts such as using reusable bags, but also collective actions toward systemic change. Blattman's digital illustrations bring beauty and brightness to an otherwise heavy topic, without making light of the severity of the situation. The pieces of plastic look like neon-colored confetti, clearly standing out against the swirling natural blues and greens of the sea. Through vibrant and immersive underwater views, readers can see a boat full of children observing the scenes below and, finally, working to clean up the waters. VERDICT A successful addition in a growing genre of engaging picture books about pollution and environmentalism." Clara Hendricks, School Library Journal 

"Riffing on "The House That Jack Built," Lord crescendos cause and effect to show how human actions harm the ocean...Though the illustrations move quickly from cataclysm to all-cleaned-up, many are realistically chilling. Substantial supplemental information explains landfills and oceanic pollution and suggests more ways to help." —Publishers Weekly 

"This may seem like a heavy topic, but it is one that children will want to get involved in. They will see the way that they can be helpful.  It deserves a place in every school library/classroom." —Patricia Tilton, Children's Books Heal

"Lyrical and rhythmic with vibrant, painty blue-hued illustrations, this will be a helpful addition to classrooms and home studies of the ocean and pollution." —Melissa Taylor, Imagination Soup

"A first step in making things right is admitting wrong. The Mess that We Made is a confession of responsibility for the environmental crisis that we are facing...In contrast to the serious content, the illustrations are beautifully translucent and whimsical." —Jenny Degroot, The Banner

"The book has an important message, handled deftly, so that young readers understand the necessity of change and feel empowered to make it. The back matter includes additional interesting and educational material. A wonderful choice for every library." —Susanna Hill

"...an effective, educational and engaging call to action for all ages...perfect for adults and kids to share as a read-aloud with its rhythmic, repetitive storyline."  —Sally Ferguson Fuller, Yoga Life Live
Thank you for shopping local!