I, Grape; or The Case for Fiction: Essays (Paperback)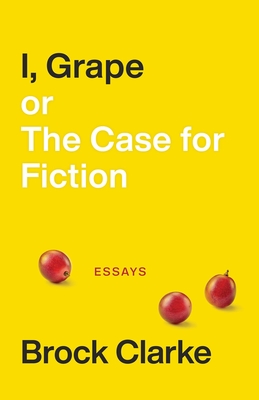 $17.00

Should be on our shelves now -- but wait for confirmation from us before coming to pick up. We'll respond to your order shortly.
Description
---
In fifteen sharply engaging essays, acclaimed novelist and short story writer Brock Clarke examines the art (and artifice) of fiction from unpredictable, entertaining, and often personal angles, positing through a slant scrutiny of place, voice, and syntax what fiction can—and can't—do. ("Very: is there a weaker, sadder, more futile word in the English language?")

Clarke supports his case with passages by and about writers who have both influenced and irritated him. Pieces such as "What the Cold Can Teach Us," "The Case for Meanness," "Why Good Literature Makes Us Bad People," and "The Novel is Dead; Long Live the Novel" celebrate the achievements of master practitioners such as Muriel Spark, Joy Williams, Donald Barthelme, Flannery O'Connor, Paul Beatty, George Saunders, John Cheever, and Colson Whitehead. Of particular interest to Clarke is the contentious divide between fiction and memoir, which he investigates using recent and relevant critical arguments, also tackling ancillary forms such as "fictional memoir" and the autobiographical novel.

Anecdotal and unabashed, rigorous and piercingly perceptive—not to mention flat-out funny—I, Grape; or The Case for Fiction is a love letter to and a passionate defense of the discipline to which its author has devoted his life and mind. It is also an attempt to eff the ineffable: "That is one of the basic tenets of this book: when we write fiction, surprising things sometimes happen, especially when fiction writers take advantage of their chosen form's contrarian ability to surprise."
About the Author
---
Brock Clarke is an award-winning author of eight works of fiction, including the bestselling An Arsonist's Guide to Writers' Homes in New England. He lives in Maine and teaches at Bowdoin College.
Praise For…
---
"Novelist Clarke chronicles in this whimsical outing his obsession with fiction as an art form. . . This impassioned defense of fiction is great for dipping into, and those who engage with fiction on a deep level will find much here that piques."
— Publishers Weekly