Asylum, a Memoir of Family Secrets (Paperback)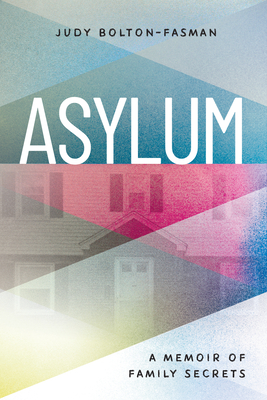 $24.95

Should be on our shelves now -- but wait for confirmation from us before coming to pick up. We'll respond to your order shortly.
Staff Reviews
---
This Fascinating memoir of family secrets will draw you in as the author searches for answers to the mystery of her parents' marriage and her own experiences with her elusive father. You can't help but root for her to find the answers—enjoy the ride!
—Mary
— From
Staff Picks
Description
---
How much do we really know about the lives of our parents and the secrets lodged in their past? Judy Bolton-Fasman's fascinating saga, "Asylum: A Memoir of Family Secrets," recounts the search for answers to the mysteries embedded in the lives of her Cuban-born mother, Matilde Alboukrek Bolton and her elusive, Yale-educated father, K. Harold Bolton. In the prefatory chapter, "Burn This," Judy receives a thick letter from her father and conjectures that the contents will reveal the long hidden explanations, confessions, and secrets that will unlock her father's cryptic past. Just as she is about to open the portal to her father's "transtiendas," his dark hidden secrets, Harold Bolton phones Judy and instructs her to burn the still unopened letter. With the flick of a match, Judy ignites her father's unread documents, effectively destroying the answers to long held questions that surround her parents' improbable marriage and their even more secretive lives. Judy Bolton, girl detective, embarks on the life-long exploration of her bifurcated ancestry; Judy inherits a Sephardic, Spanish/Ladino-speaking culture from her mother and an Ashkenazi, English-only, old-fashioned American patriotism from her father. Amid the Bolton household's cultural, political, and psychological confusion, Judy is mystified by her father's impenetrable silence; and, similarly confounded by her mother's fabrications, not the least of which involve rumors of a dowry pay-off and multiple wedding ceremonies for the oddly mismatched 40-year-old groom and the 24-year-old bride. Contacting former associates, relatives, and friends; accessing records through the Freedom of Information Act; traveling to Cuba to search for clues, and even reciting the Mourner's Kaddish for a year to gain spiritual insight into her father; these decades-long endeavors do not always yield the answers Judy wanted and sometimes the answers themselves lead her to ask new questions. Among Asylum's most astonishing, unsolved mysteries is Ana Hernandez's appearance at the family home on Asylum Avenue in West Hartford, Connecticut. Ana is an exchange student from Guatemala whom Judy comes to presume to be her paternal half-sister. In seeking information about Ana, Judy's investigations prove to be much like her entire enterprise--both enticing and frustrating. Was Ana just a misconstrued memory, or is she a still living piece of the puzzle that Judy has spent her adult life trying to solve? Readers will relish every step and stage of Judy's investigations and will begin to share in her obsession to obtain answers to the mysteries that have haunted her life. The suspense, the clairvoyant prophecies, the discoveries, the new leads, the dead-ends, the paths not taken--all capture our attention in this absorbing and fascinating memoir.
About the Author
---
Judy Bolton-Fasman's writings have appeared in major newspapers, including the New York Times and the Boston Globe. She has contributed to literary magazines such as Catapult, Brevity, Cognoscenti, the Rumpus, Superstition Review, Signal Mountain Review, and McSweeney's. She writes about arts and culture for JewishBoston.com. Her writing has appeared in the anthologies The Shell Game: Writers Play with Borrowed Forms and (Her)oics: Women's Lived Experiences During the Coronavirus Pandemic. In addition to receiving a recent Pushcart Prize nomination, Judy is the recipient of the Alonzo G. Davis Fellowship for Latinx writers from the Virginia Center for Creative Arts. She was the Erin Donovan Fellow in Non-Fiction at the Mineral School in Washington and the recipient of a fellowship from the Vermont Studio Center. She lives outside of Boston with her family.