Alice Neel: Drawings and Watercolors (Hardcover)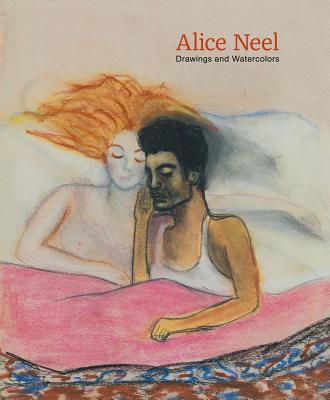 $45.00
Out of stock at the moment; would not arrive before the holidays.
Description
---
Alice Neel: Drawings and Watercolors 1927-1978 presents an illuminating overview of the variety of themes and styles employed by the artist across five decades.

Drawing was a fundamental, stand-alone component of Alice Neel's practice, persistently pursued alongside painting, for which she is primarily known. As a medium, it enabled her to capture the immediacy of her visual experience—whether in front of her sitters or on the city streets—while also affording her a greater sense of experimentation and informality. Neel chose the subjects for both her paintings and drawings from her family, friends, and a broad variety of fellow New Yorkers: writers, poets, artists, students, textile salesmen, cabaret singers, and homeless bohemians. Through her penetrative, forthright, and at times humorous touch, her work subtly engaged with political and social issues, including gender, racial inequality, and labor struggles. Not initially intended for public view, her drawings reveal a more private and intimate nature than her paintings and as such reflect her deep sensitivity to these subjects. Yet they are far from sentimental and she readily stripped her sitters of their masks, foregrounding rather the incongruous, the awkward, and, at times, the comical.

Published to coincide with an exhibition at David Zwirner in New York, the book contains over sixty color plates organized thematically and includes works selected from throughout her career. In addition, it features essays by the independent curator and writer Jeremy Lewison and the award-winning novelist Claire Messud, as well as a selected chronological biography and illustrated list of works.

Although Neel's influences and style changed from decade to decade, her profound commitment to her subjects and to her art remained consistent over the course of her career, and although the appearance of many of her sitters changed over the years, there is a timeless quality to the works. As Claire Messud notes in her reflections on the artist in the exhibition catalogue, "The complex emotions Neel evokes in her art are nothing less than the contradictions of life itself."
About the Author
---
Alice Neel was born in 1900 in Merion Square, Pennsylvania, and died in 1984 in New York. With a practice spanning from the 1920s to the 1980s, Neel is widely regarded as one of the foremost American painters of the twentieth century. Based in New York, Neel selected her sitters from among her family members, friends, neighbors, and a variety of New Yorkers, and her eccentric portraits are thus a portrayal of, and dialogue with, the city in which she lived. Although she showed sporadically early in her career, from the 1960s onward her work was exhibited widely in the United States. In 1974, she had her first retrospective at the Whitney Museum of American Art, New York.
Praise For…
---
"This museum-quality show reveals the most sharp-eyed of twentieth-century American portrait painters as master of another mode as well. Neel's works on paper are spontaneous, intimate, and mordantly observant."
— Jim Hoberman

"When Neel wasn't painting, she was sketching. Alice Neel: Drawings and Watercolors, a new book with a corresponding exhibition, collects this interstitial work, some of it polished and some hauntingly restive."
— Dan Pipenbring

"She paints portraits that come alive and that have style and meaning. She is a master of a technique which can reach a high and convincing level of expressiveness. She is a painter whose work has individual character."
— The Editors

"A sprawling survey of drawings and watercolors made between 1927 and 1978… they're alternately romantic, sentimental, erotic, and surreal."
— Scott Indrisek

"Taken together, the works in this startling show create compelling cycles of life and death, simultaneously universal and profoundly intimate."
— Zoë Lescaze

This "moving" show "has the emotional weight and power of Neel's expressionistic hand and humor, too."
— Staff

Neel is the "incomparable master of intimate expressionistic portraiture."
— Staff

Alice Neel: Drawings and Watercolors 1927-1978 "considers Neel's works on paper as a significant, stand-alone component of the artist's production, one she enjoyed for its immediacy and intimacy."
— Jeffrey Carlson