Aging with Wisdom: Reflections, Stories and Teachings (Paperback)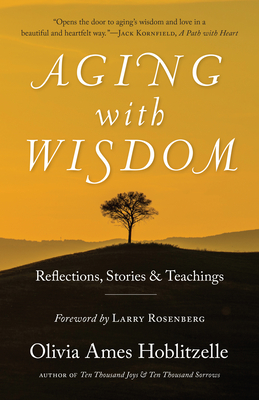 List Price: $18.95
Our Price: $16.95
(Save: $2.00 11%)
Likely on our shelves now
Description
---
The perfect book for an aging population increasingly interested in finding meaningfulness, mindfullness, connection with others, and the inner life.
About the Author
---
Olivia Ames Hoblitzelle is a writer and dharma teacher. For over forty years she has devoted herself to spiritual practice, primarily Buddhist meditation, which has deeply influenced her professional life, in particular how to integrate psychology and meditation. After practicing as a psychotherapist with individuals, couples, and groups, she taught in the field of Behavioral Medicine where she pioneered the integration of meditation, yoga, and cognitive therapy with traditional Western medicine. As a Teaching Fellow at the Mind/Body Medical Institute, she developed and taught training programs for health professionals in new approaches to health and healing through Harvard Medical School. During her career, she has introduced contemplative practices in a wide variety of settings: government agencies, businesses, hospitals, organizations, churches, and most extensively in school systems to both teachers and students. Her first book, Ten Thousand Joys & Ten Thousand Sorrows: A Couple's Journey Through Alzheimer's, is an award-winning book that has sold close to 15,000 copies and has been translated into four languages. As mentioned earlier, she has done extensive promotion; many talks, conference keynotes, book events, radio and TV interviews as well as written articles and other pieces (introductions, chapters, etc.) for books and periodicals. As part of her commitment to contemplative life, Olivia has served on the boards of three organizations whose missions are to encourage Buddhist teachings and practices in the West: Insight Meditation Society, Trijang Buddhist Institute, and Dharma Friends. With her enduring commitment to peace and social justice, she was a founding board member and board chair of the Karuna Center for Peacebuilding. A lifelong educator, she was on the board of the Putney School and the Karuna School. Now an elder with two grown children and four grandsons, she lives in Massachusetts and spends as much time as she can in Vermont where she grows vegetables, welcomes family and friends, and steeps herself in the glories of nature. She is also an artist committed to exploring the creative, spiritual, and healing dimensions of our lives. OliviaHoblitzelle.com
Thank you for shopping local!