The Worst Day of My Life Ever!: My Story about Listening and Following Instructions Volume 1 (Best Me I Can Be) (Paperback)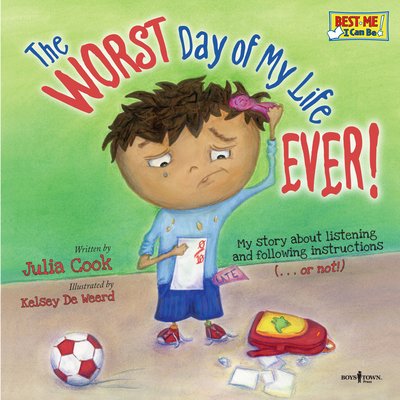 $10.95

Not in the store. We can order it and should have it in store in 3-5 business days.
Description
---
Introduce students in grades K through 6 to the most basic of social skills with this humorous story about RJ and his very rough day when nothing goes right.
RJ learns that his problems happen because he doesn't listen or pay attention to directions from his mom, his school principal, his teachers, or even his friends. Four simple steps for listening and following instructions are presented in rhyme so all kids, including RJ, will be able to remember how and when to use these fundamental social skills.
This storybook is the first in Julia Cook's book series, which teaches children social skills that can make home life happier and school more successful. The skills are part of the Boys Town Education Model(R) that has improved student behavior and classroom climates in hundreds of schools across the country. Many of the same techniques can also be found in the strategies that comprise Boys Town's Common Sense Parenting(R) program. Tips for parents and educators on how to teach and encourage kids to use the skills of listening and following instructions are included at the end of the picture book. 31 pgs.
The book series also includes:
I Just Don't Like the Sound of NO
SORRY, I Forgot to Ask
TEAMWORK Isn't My Thing, and I Don't Like to SHARE
I Just Want to Do It MY WAY
THANKS for the FEEDBACK... (I THINK?)
I Can't Believe You SAID That
Help children understand and practice the lessons from the story using the fun, engaging activities from the accompanying Teacher Activity Guide, available for purchase
SAVE $50 when you purchase the entire library, which includes all seven storybooks, one copy of the seven activity guides, and one set of all 14 posters from the BEST ME I Can Be book series.
About the Author
---
Julia Cook, a former school counselor and teacher, has written many books on behavior and health for children. She has received the Association for Educational Publishers Distinguished Achievement Award, and her books have been honored by the National Parenting Center and Mom's Choice Awards. Her storybooks show children how to make a positive difference in their lives by teaching them lifelong problem-solving skills. Her Best Me I Can Be series of children's books teaches essential social skills, such as Listening and Following Instructions. Julia's ultimate goal is to make a positive difference in the lives of children, parents and educators by teaching lifelong problem-solving skills to kids.