Clash of Civilizations Over an Elevator in Piazza Vittorio: A Novel (Paperback)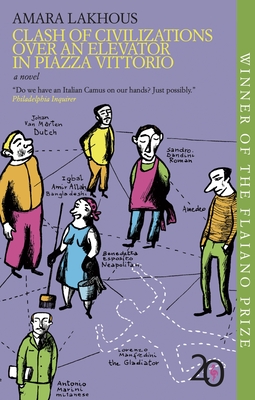 $14.95

Not in the store, usually ships in 4-7 Days
Description
---
A small culturally mixed community living in an apartment building in the center of Rome is thrown into dissaray when one of the tenants is murdered. As each of the victim's neighbors is questioned by the police, readers are offered an all-access pass into the most colorful neighborhood in contemporary Rome. Each character takes his or her turn "giving evidence," recounting his or her story—the drama of racial identity, the anxieties and daily humiliations born of a life spent on society's margins, but also the hilarious imbroglios that are inevitable in this melting pot of cultures. What emerges is a moving story that is common to us all. 

With language that is as colorful as the neighborhood it describes, Clash of Civilizations Over an Elevator in Piazza Vittorio is characterized by a seemingly effortless prose that borrows from the cinematic tradition of the Commedia all'Italiana, as exemplified by directors such as Federico Fellini.

At the heart of this bittersweet comedy, winner of Italy's prestigious Flaiano Prize for Fiction, is a social reality we often tend to ignore and an anthropological analysis, refreshing in its generosity, that cannot fail to fascinate.
About the Author
---
Amara Lakhous was born in Algiers in 1970. Clash of Civilizations Over an Elevator in Piazza Vittorio won Italy's prestigious Flaiano Prize and prompted the critic Carlin Romano to ask in the Philadelphia Inquirer, "Do we have an Italian Alberto Camus on our hands?". Lakhous is also the author of Divorce Islamic Style and Dispute Over a Very Italian Piglet.

Ann Goldstein is an editor at The New Yorker. Her translations for Europa Editions include novels by Amara Lakhous, Alessandro Piperno, and Elena Ferrante's bestselling My Brilliant Friend. She lives in New York.
Praise For…
---
Praise for Clash of Civilizations Over an Elevator in Piazza Vittorio

"Recalls Naguib Mahfouz's epic about slices of Egyptian popular life in the 'The Cairo Trilogy' of the 1950s. The rich variety of characters and psychological understanding place Mr. Lakhous in the tradition of Balzac and Dickens."
—The Washington Times  

"The author's real subject is the heave and crush of modern, polyglot Rome, and he renders the jabs of everyday speech with such precision that the novel feels exclaimed rather than written."
—The New Yorker

"Intriguing psychological and social insight alongside a playful whodunit plot, exposing the power of fear, racial prejudice and cultural misconception to rob a neighborhood of its humanity."
—Publishers Weekly 

"No recent Italian novel so elegantly and directly confronts the 'new Italy.'"
—Philadelphia Inquirer 

"What's memorable about Lakhous' novel is what he shows us of an often inward-looking nation confronting the teeming vibrancy of multicultural life."
—NPR's Fresh Air

"A satirical, enigmatic take in the racial tensions that afflict present-day Europe."
—Brooklyn Rail