How To Survive in the North (Paperback)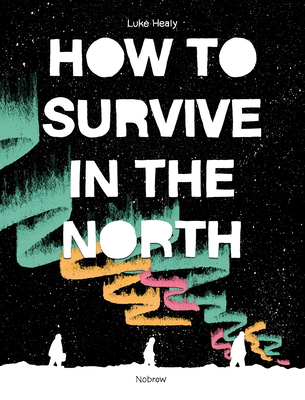 $15.95

Backordered at our distributor but we can check availability from the publisher.
Description
---
One of Publishers Weekly's Best Books of 2016, available in paperback for the first time! With stunning narrative skill, this compelling graphic novel intricately weaves together true-life narratives from 1912 and 1926 and a fictional story set in the present day. How To Survive in the North is an unforgettable journey of love and loss that shows the strength it takes to survive in even the harshest conditions.
About the Author
---
Luke Healy was born and raised in Dublin, Ireland. He received an MFA in Cartooning from The Center for Cartoon Studies in Vermont. His comics work has been published in several anthologies and he has also worked as a coloring assistant with Lucy Knisley on her book Something New.
Praise For…
---
A JUNIOR LIBRARY GUILD SELECTION

ONE OF Publisher's Weekly'S BEST BOOKS OF 2016

Winner of the MoCCA Fest Award of Excellence from the Society of Illustrators for Of The Monstrous Pictures of Whales

"These beautifully pensive and chilly vignettes interweave history and the present, exploring the circumstances of bad decisions and the resulting consequences we face. Healy's quiet storytelling and expressive yet simple lines pull you in to the lives and experiences of these characters, both factual and fictional."
—Lucy Knisley, bestselling author of Relish: My Life in the Kitchen

"Healy is a master of stitching together narrative threads like a double helix of twinned realities."
—The Washington Post


"A thought-provoking graphic novel about the exploration of the Arctic […] Healy's narrative gains power from the interconnecting stories and a carefully chosen thematic color palette, but above all it is powered by his brilliant handling of the wordless panels where so much of the story is told."
—Publisher's Weekly, STARRED REVIEW

"The novel alternates among the three strands, overlapping people and events, fact and fiction, in an intricate narrative pattern of challenge, crisis, and survival for each of the three protagonists. Healy's command of visual storytelling coupled with a palette of pastels reminiscent of the northern lights provides the thread of continuity that holds the weave together. Two parts historical, one part invention, a quiet contemplation and celebration of the tenacity of the human spirit."
—Kirkus Reviews

"Healy's artwork, composed in many small panels, is extremely appealing, clever, and emotive [...] Healy lights his contemplation of the lure of inhospitable places and the often regrettable decisions they inspire men and women to make from an intriguing angle."
—Booklist

"In his quietly ambitious and intricately colour-coded debut, Irish cartoonist Luke Healy intertwines three stories of isolation and hardship, where self-preservation occurs only through unlikely friendship and inner resolve. […] the icy clarity with which Healy retells the historical portions of his story, the resourceful and determined personalities he creates for Bartlett and Blackjack, and the stakes with which he imbues their struggles for survival, all combine to create real relief and catharsis by story's end, solemnly shaded by tragedy."
—The Globe and Mail

"Narratively complex and well-crafted"
—The Comics Reporter

"Colorful, eye-catching […] This book serves as a nice introduction into Arctic exploration of the early 20th century, providing enticement for young readers to research further."
—Historical Novel Society

"This is a beautiful and quiet book."
—Women Write About Comics

"What made the book work was the quality of his character work, bringing Blackjack, Bartlett and Sully to life and making the supporting characters fully realized characters instead of just ciphers."
—Rob Clough

"STUNNING, complex, and beautiful!"
—Clarissa Murphy, Brookline Booksmith

"Like the frigid plains it's set in, Luke Healy's graphic novel How to Survive in the North is quiet and full of introspective beauty […] this book is sublime, as terrifying and exhilarating as it is beautiful. How to Survive in the North doesn't pull any punches, and it finds strength in the willingness to linger in quiet moments, just moments before looking death in the face."
—Heavy Feather Review

"Stylistic choices are front and centre in this gorgeously crafted graphic novel."
—Down The Tubes

"There's a wonderful depth to this book with its full-bodied scope following the rhythms of a prose novel. Healy's drawing style is economical while not missing a beat. The pacing, the light but spot on composition, and the compelling dialogue provide a rich experience. […] reading this quirky and highly entertaining graphic novel is certainly a great idea!"
—Comics Grinder

"This is the kind of historical fiction I want to see people writing."
—Comic Bastards

"An attractive book and thoroughly enjoyable and interesting tale."
—Nicola Mansfield,Back To Books

"Historical fiction woven with real life narratives that spans three time periods. The graphic novel brings this exciting exploration to life in a way that engaged both my twelve year old and myself and led to some exciting conversations. Beside a roaring fire is the best spot to plunge into this snowy read!"
—Jesica DeHart,Wandering Bookseller

"How To Survive In The North is an utterly compelling read and one which is so tense and filled with icy danger that you will want to make sure you have a rescue boat (and some fur lined gloves) on standby before you get past the first few pages."
—Pipedream Comics

"Simply and beautifully illustrated it contains a wealth of history that made me research the histories of the characters once I had finished it. I love Luke Healey's artwork and the changing colours to denote the different expeditions and the contemporary story is an excellent idea!"
—Teen Librarian

"A great historical graphic novel with wonderful illustrations and good information."
—Curious Iguana

"With a clever concept and and outstanding design, the book is fresh and fascinating addition to any bookshelf and must-read for history fans and illustration enthusiasts alike."
—Headless Greg

"Luke Healy's How To Survive In The North is an extremely accomplished debut graphic novel. [...] Healy is a very talented storyteller and artist, and this is a strong release."
—The Quietus