Hilda and the Midnight Giant: Hilda Book 2 (Hildafolk #2) (Hardcover)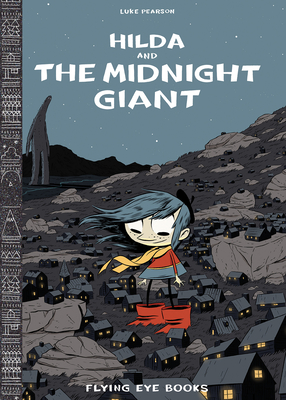 $19.95

Not in the store. We can order it and should have it in store in 3-5 business days.
Other Books in Series
This is book number 2 in the Hildafolk series.
Description
---
WATCH SEASONS ONE AND TWO OF HILDA THE ANIMATED SERIES NOW ON NETFLIX!

"Luke Pearson is one of the best cartoonists working today. Hilda is utterly brilliant!"
—Raina Telgemeier, creator of Smile

Hilda finds her world turned upside down as she faces the prospect of having to leave her snow-capped birthplace for the hum of the megalopolis. But why do the "Hidden Elves" want her to leave? Why is it that only she can see them? And who is the giant that turns up in the night?
About the Author
---
Luke Pearson is the artist and writer of the Hilda series of graphic novels. He has fast become one of the leading talents of the United Kingdom and United States comics scene, garnering rave reviews from the New York Times and the School Library Journal. He was the winner of the Young People's Comic category at the British Comic Award in 2012, and he has been nominated for the Eisner Award's Best Publication for Kids and Best Writer/Artist in 2013. He has recently written and storyboarded multiple episodes of the cult classic show Adventure Time. He lives in Bristol, United Kingdom.
Praise For…
---
Hilda is now on Netflix! Season 1 is the WINNER of the BAFTA Children's Award for Best Animated Series 2019! Season 2 is out now!

"...a charming, and surprisingly cozy, Nordic myth–inflected world full of trolls and giants and strange beasts."
—Publishers Weekly

"Luke Pearson is one of the best cartoonists working today. Hilda is utterly brilliant!"
—Raina Telgemeier, creator of Smile

"Plain smart and moving. John Stanley's Little Lulu meets Miyazaki."
—Guillermo Del Toro

"Luke Pearson's Hilda stories are beloved in our house, and they will surely be enjoyed by audiences for many years to come."
—Kazu Kibuishi, creator of Amulet

"In Hilda, Luke Pearson has created a truly odd and amazingly beautiful world—Stunningly personal and original. I am in awe of his imagination. He is a real inspiration."
—Mike Mignola, creator of Hellboy

A Publisher's Weekly Top Illustrated Book, 2012

"Pearson's utter lack of pretension keeps Hilda feeling fresh, while his reading of folktales and Tove Jansson's Moomin series embeds Hilda in the long history of children's stories. […] Hilda's dilemmas, while fantastic, also feel real […] Pearson has found a lovely new way to dramatize childhood demons, while also making you long for your own cruise down the fjords."
—The New Yorker

"[Hilda's world] is… a glorious, exciting if also rather menacing place — one children will be eager to enter. It's also visually arresting: exuberant and lively and faintly Miyazakian"
—The New York Times Book Review

"Pearson's whimsical artwork—a cross between Lucky Luke and Miyazaki—creates a magical spell of a mysterious world of hidden creatures, and the production of the book make it a treasure in itself. The story—comparable to the Adventures of Polo series by Regis Faller and Copper by Kazu Kibuishi—never flags in imagination or wonder"
—Publisher's Weekly, Starred Review

"Midnight Giant is sad, but packs probably the most weighty punch of the series as far as real-life lessons for kids. […] It's less a moral about transitioning from childhood to adulthood than it is about a transition from the naiveté of early childhood (Santa Claus, anyone?) into the more realistic stages of later childhood. It's also about what matters most — possessions or people?"
—Comics Alliance

"Hilda is the little girl. And this is her folk tale. And pretty much everything you need to know about how good this is is there on that absolutely gorgeously delightful cover. By the end of it, you'll have exactly the same smile as Hilda has."
—Forbidden Planet
Thank you for shopping local!