US Marine Corps Tanks of World War II (New Vanguard) (Paperback)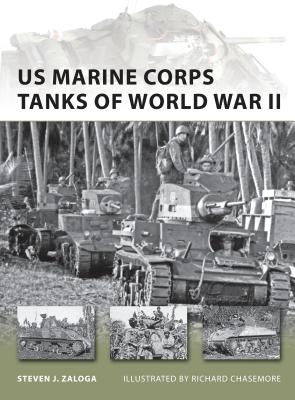 $19.00

Backordered at our distributor but we can check availability from the publisher.
Other Books in Series
This is book number 186 in the New Vanguard series.
Description
---
The US Marine Corps formed six tank battalions in World War II which saw combat in some of the most varied and extreme conditions of the Pacific theater. The Marine tank battalions fought on small coral atolls such as Tarawa, in the fetid jungles of the south west Pacific including Guadalcanal, in the lush central Pacific islands of the Marianas such as Saipan and Guam, and on the volcanic deserts of the Bonin islands such as Iwo Jima. The tank equipment of the Marine Corps was essentially the same as that used by the US Army: the M3 and M5A1 light tanks, and the M4 Sherman medium tanks. But the conditions and the opponent forced the Marine Corps to adapt both in terms of technical and tactical innovations. The numerous island landings forced the development of novel landing equipment, especially deep wading equipment to get the tanks safely ashore. Japanese defensive tactics in 1943-44 put a premium on American use of flamethrowers and the development of a variety of flamethrower tanks on the M3 light tank chassis. Deadly Japanese close-infantry tactics forced the development of novel methods of tank protection including the use of wooden armor to defeat the use of magnetic anti-tank devices. This book will examine the Marine use of tanks in World War II and the tactics and technology that made their experiences so unique in the annals of tank warfare.
About the Author
---
Steven J. Zaloga received his BA in History from Union College and his MA from Columbia University. He has worked as an analyst in the aerospace industry for four decades, covering missile systems and the international arms trade, and has served with the Institute for Defense Analyses, a federal think tank. He is the author of numerous books on military technology and history, including NVG 294 Allied Tanks in Normandy 1944 and NVG 283 American Guided Missiles of World War II. He currently lives in Maryland, USA.

Richard Chasemore completed a four-year course in technical illustration in 1992. Since then, he has worked on a wide variety of projects in publishing and advertising, using both traditional and digital media. He has lectured in airbrush techniques, and written six educational books on digital art. A long-standing contributor to the top-selling Star Wars Incredible Cross Sections series, his contribution has taken him to Skywalker Ranch in California to work with Lucasfilm's concept artists. Richard also enjoys music and is a co-founder of Superglider Records.
Praise For…
---
"Anyone with an interest in the history of, or of modeling of USMC WW2 armor should be very happy with this title. Wholeheartedly recommended." —Fred Boucher, Aero Scale