We're Here Because You Were There: Immigration and the End of Empire (Paperback)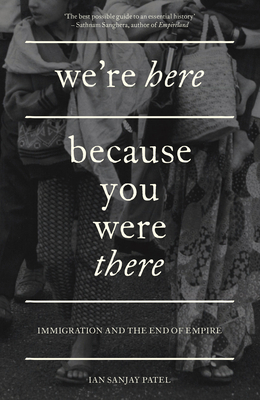 $19.95

Should be on our shelves now -- but wait for confirmation from us before coming to pick up. We'll respond to your order shortly.
Description
---
What are the origins of the hostile environment for immigrants in Britain?

Chosen as a BBC History Magazine Book of the Year 2021 and shortlisted for the PEN Hessell-Tiltman Prize 2022

In the wedded stories of migration and the end of empire, Ian Sanjay Patel uncovers a forgotten history of post-war Britain. After the Second World War, what did it mean to be a citizen of the British empire and the post-war Commonwealth of Nations? Post-war migrants coming to Britain were soon renamed immigrants in laws that prevented their entry despite their British nationality. The experiences of migrants and the archival testimony of officials and politicians at home and abroad, retold here, define Britain's role in the global age of decolonization.
About the Author
---
Ian Sanjay Patel is currently LSE Fellow in Human Rights at the London School of Economics. His non-fiction writing has appeared in the New Statesman, the London Review of Books, and elsewhere. Born in London, he completed his PhD at Queens' College, University of Cambridge.
Praise For…
---
"Combining startling new research with a clear and convincing argument, this shows just how essential the history of migration and race is to understanding Britain today."
—Daniel Trilling, author of Lights in the Distance

"Many studies of immigration suffer from two weaknesses. They discuss it in isolation from a discussion of national identity, and treat it as a domestic issue that can be analysed and explained in terms of domestic constraints and compulsions. Patel's new book is happily free from these, and offers a historically rich and conceptually rigorous study of post-1945 immigration to the UK, especially that of East African Asians. He locates it in Britain's imperial context and traces with great skill the debate on Britain's self-understanding that it sprang from and influenced. This is a first-rate book and deserves to be widely read."
—Bhikhu Parekh, author of Rethinking Multiculturalism: Cultural Diversity and Political Theory

"Patel provides some much-needed context for one of the world's most contentious and vexed subjects of debate: immigration. From the legal architecture designed to make life impossible for foreigners both a century ago and today, to the hypocrisies of British officials bent on shutting out those forced from their homes, Patel succinctly and eloquently explains the long-lasting consequences of empire: how countless lives were irrevocably altered by mandarins in Whitehall offices, and the related suffering that continues into the present day."
—Dr Shashi Tharoor, author of Inglorious Empire: What the British Did to India

"Patel provides an indispensable and urgently relevant account of immigration and the end of empire that reveals the mirage-like quality of the very concepts through which we typically understand postwar Britain. Situating the arrival of nonwhite people in Britain in an intra-imperial context, this bravely and innovatively wide-ranging account shows that neither were they immigrants, nor was Britain ending empire. Their arrival was a phenomenon of continuity rather than a dramatic break with the past. With a compassionate authorial voice, Patel captures the trauma of unbelonging and of racist gatekeeping of the planet against a backdrop of continuous, untrammeled British emigration. This carefully researched book is testimony to history's astonishing power to change how we understand the world we inhabit by dispelling the myths that obscure truth."
—Priya Satia, Raymond A. Spruance Professor of International History at Stanford University and author of Time's Monster: History, Conscience and Britain's Empire

"Debates about immigration in the immediate post-war decades, argues Ian Sanjay Patel in his provocative and important new book, were really about Britain's relation to changes in the outside world and to itself. He tells a story rooted both in the experience of migrants and in the archives of officials and politicians, at home, in the UN, and in the new postcolonial states. An idea of empire rooted in white power and colonial subjection was rearticulated for global times. Both Conservative and Labour governments utilized the law to establish a race-based set of rights for contemporary Britain."
—Catherine Hall, author of Civilising Subjects

"This is an extraordinary and important book. It is powerful, principled and courageous, a necessary and vital disquisition on the continuing legacies of colonialism and the mindset of its making and perpetuation in the modern, brutish Britain we seem to inhabit."
—Philippe Sands, author of East West Street

"The contemporary politics of belonging and immigration—Ian Sanjay Patel shows in this stunning history—make no sense except against the backdrop of centuries of empire, and the decades at its messy end when British identity was refashioned. We're Here Because You Were There expertly revisits how the claim and incentive to move beyond empire followed only upon the erection of colonial hierarchy and racialized exclusion, factors which were strengthened in forgotten eras of imperial citizenship and Commonwealth unity. This book boldly and convincingly lays down a new starting point for debate today."
—Samuel Moyn, author of Not Enough: Human Rights in an Unequal World

"A book of rare importance. Ian Sanjay Patel masterfully traces the long shadow cast by Empire over Britain's recent history, and its present."
—Amia Srinivasan, Chichele Professor of Social and Political Theory, All Souls College, Oxford

"Ian Sanjay Patel's meticulously researched book shows how vital it is to understand the effects of the legacies of empire on the history of migration, and our understanding of race and belonging in modern Britain. It is an essential book for our times."
—Kavita Puri, author of Partition Voices

"Groundbreaking … undoubtedly a landmark contribution."
—David Wearing, Tribune

"Deeply impressed by this book. Expands upon many of the observations I make about multiculturalism in Empireland with real authority. Wish I'd been given it at school"
—Sathnam Sanghera, author of Empireland

"[Patel] reminds us that the British Empire and imperial thinking lasted much longer than is generally understood … insightful."
—Rohan Venkataramakrishnan, Scroll

"A book that leaves you with much food for thought, and confirms your darkest imaginings about the days of empire and the present world order it has evolved into."
—Peggy Mohan, The Wire

"This [book's] broad but telling analytical framework, combined with impressive archival research, enables [Ian Sanjay Patel] to deliver what I take to be the most compelling account of the long history of Britain's immigration laws, from 1905 to the present. It's a book that leaves me full of wonder and admiration."
—Bill Schwarz, New West Indian Guide

"Patel's book—with its wonderful title—has opened a new perspective on Britain's imperial past … nobody has produced a more astute obituary of a progressive British idealism that believed itself uniquely gifted in world governance."
—Neal Ascherson, London Review of Books

"The best possible guide to an essential history."
—Sathnam Sanghera, BBC History Magazine

"It is the signal achievement of We're Here Because You Were There to bring fresh and clear eyes to a subject many may think they know already … scholarly, insightful and fluent"
—David Feldman, Ethnic and Racial Studies