Professor Astro Cat's Frontiers of Space (Hardcover)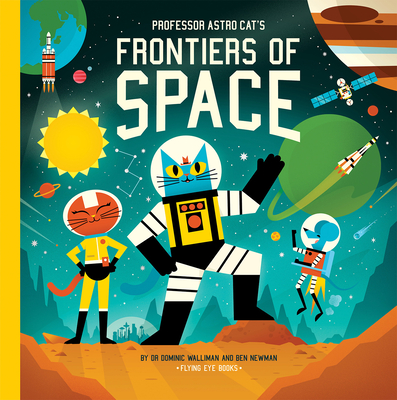 $19.99

Not in the store. We can order it and should have it in store in 3-5 business days.
Description
---
Blast off with this new edition in the first book in the best selling Professor Astro Cat series! Featuring updated details about how rockets work, recent missions to Mars, space junk, and black holes.



"Conducted by a cat in a retro-futuristic space suit, this tour of the solar system and beyond earns style points for both its illustrations and its selection of "Factoroids."
-Kirkus Reviews

"Cute characters (such as the titular Professor Astro Cat and his assistant Astro Mouse) give a humorous, conversational tone to this nonfiction book's information about space, our solar system, and changing space exploration technology. Like the text, the book's browsable layout encourages readers to keep exploring. Overall, a great book to nurture interest in and wonder at the infinite possibilities of space."
-The Horn Book


"Both modern in its scientific spirit and with a sensibility modeled after the delightful mid-century children's books from the Golden Age of space exploration, it tickles young readers - as well as their space-enchanted parents - into precisely that "palpable zest to make contact with the cosmos."
-Brain Pickings


Professor Astro Cat is the smartest cat in the alley. He's got a degree in just about every discipline under the sun! Speaking of the sun, he happens to be specialist on that too, and Professor Astro Cat's Frontiers of Space will tell you everything that there could be to know about our star, our planet, our solar system, our galaxy, our universe, and many more new insights into the ever-developing science of space and the outer reaches of the universe!

The professor's made sure of that; he's a fastidious little feline! Professor Astro Cat's Frontiers of Space also explores topics such as gravity, extraterrestrial life, time, and many other fascinating subjects that will take you and your children on a journey to the very frontiers of space!
About the Author
---
Dominic Walliman is a YouTuber and a non-fiction children's book author. He has a popular YouTube channel called Domain of Science and he writes the award winning Professor Astro Cat science books for children. Dominic grew up in Cheltenham UK, gained a PhD in quantum device physics from The University of Birmingham and worked for several years in the quantum computing industry in Canada.




Ben Newman is an award-winning illustrator who has racked up an impressive list of clients including Penguin, the BBC, and the New York Times, amongst many others.



Praise For…
---
Selected for the CBC's February 2022 Hot Off the Press reading list

"A big, bold book geared for humans ages 7–11 (or anyone up to approximately 78 years north of those ages), Frontiers of Space welcomes readers into its pages with gorgeous retro-inspired artwork and keeps them there by describing the wonders of the universe and the science underlying them. […] Whether you're a cat connoisseur, a dog devotee, a hamster partisan, or an iguana booster, you're apt to agree that the affable, amusing, and—yes—wonderfully nerdy Professor Astro Cat makes a fine companion for the budding scientist."
—American Scientist


"Cute characters (such as the titular Professor Astro Cat and his assistant Astro Mouse) give a humorous, conversational tone to this nonfiction book's information about space, our solar system, and changing space exploration technology. Like the text, the book's browsable layout encourages readers to keep exploring. Overall, a great book to nurture interest in and wonder at the infinite possibilities of space."
—The Horn Book

"Conducted by a cat in a retro-futuristic space suit, this tour of the solar system and beyond earns style points for both its illustrations and its selection of "Factoroids."
—Kirkus Reviews

"Both modern in its scientific spirit and with a sensibility modeled after the delightful mid-century children's books from the Golden Age of space exploration, it tickles young readers — as well as their space-enchanted parents — into precisely that "palpable zest to make contact with the cosmos."
—Brain Pickings

"A hugely charming book packed with knowledge and humor to make learning about space fun."
—Cool Hunting

"Professor Astro Cat's Frontiers of Space charms the reader immediately. Newman's clean, modernist illustrations have a strong retro-futuristic bent that suggest the golden age of science fiction pulp magazines ,while Walliman provides lucid prose to help Professor Astro Cat explain topics such as the birth of stars, the speed of light, the solar system and the history of space exploration. […] The book is a delight of design in its own right. […] Children will want to make many return voyages with Professor Astro Cat, but so will the generations before them who still fondly look to the stars for inspiration."
—Wink Books

'Finally! A spectacularly made publication to teach kids about space in an exciting, funny and breathtakingly beautiful way. Illustrator Ben Newman has collaborated with his scientific friend Dr.Dominic Walliman to create this truly astounding publication to be enjoyed by adults and children alike. I genuinely learned more about science and space from flicking through this book than I did in my entire school career. So go buy it!'
—It's Nice That

"The book combines scientific rigor (on a level appropriate for younger readers) with delightful imagery. Every page offers a wealth of details. […] The illustrations are busy in the best way: clearly connected to the text, but with all sorts of small flourishes and surprises built in. This is the kind of book that a grade-school age budding scientist can spend hours with. I wish I'd had a book like this when I was younger, but even now, when I'm well into my fifties, I'm absolutely captivated by it. […] This is a perfect book for gift-giving and for opening up the universe (literally, the universe) for younger readers."
—What If Knits