Lonely Planet Kids Our Extreme Earth 1 (Paperback)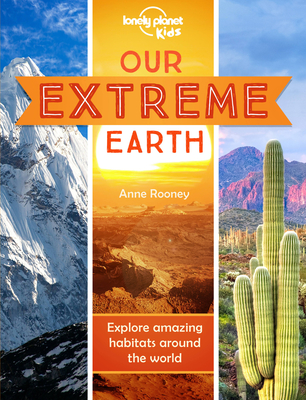 $14.99

Backordered at our distributor but we can check availability from the publisher.
Description
---
From the otherworldly landscapes of the Atacama Desert to the thundering Victoria Falls in Zimbabwe, journey to jaw-dropping habitats around the world and learn about the people and creatures that have adapted to living in such extreme environments. With mind-blowing facts to be amazed by, incredible photographs throughout and advice on protecting ecosystems for future generations, this book is a fantastic and entertaining read for children.

From the world's highest sand dunes in Iran's inhospitable Lut Desert, the hottest place on Earth, to the world's only marine iguanas in the remote and volcanic Galapagos Islands, writer Anne Rooney charts a course to some of the planet's most unique ecosystems. Accompanied by incredible full-color photographs throughout, kids will stumble upon lush rainforests, mighty mountains, scorched deserts and much more. From the kaleidoscopic corals of the Great Barrier Reef to untouched tropical rainforests in Papua New Guinea, no corner of our extreme earth is left unturned!

About Lonely Planet Kids: Lonely Planet Kids - an imprint of the world's leading travel authority Lonely Planet - published its first book in 2011. Over the past 45 years, Lonely Planet has grown a dedicated global community of travelers, many of whom are now sharing a passion for exploration with their children. Lonely Planet Kids educates and encourages young readers at home and in school to learn about the world with engaging books on culture, sociology, geography, nature, history, space and more. We want to inspire the next generation of global citizens and help kids and their parents to approach life in a way that makes every day an adventure. Come explore!