My Mom Is a Spy: My Mom Is a Spy: Book One (Paperback)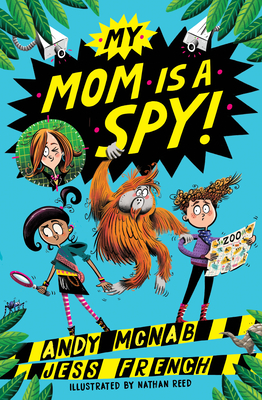 $8.95

Should be on our shelves now -- but wait for confirmation from us before coming to pick up. We'll respond to your order shortly.
Description
---
"A fast-paced spy caper complete with good guys to root for, nefarious villains, and plot twists....Thoroughly entertaining and suspenseful. Kids will eagerly await the next volume."--Kirkus Reviews
"Idris and Luc a must combine their veterinarian and secret agent skills to save Idris's mother from a sinister fate in this laugh-out-loud chapter book series opener."--Publishers Weekly
My mom is absolutely definitely 100% NOT a spy. . . She works 50 hours a week at Bingo Blott's Paperclip factory. When would she have time to be a spy?
The first in a new chapter book series about a mom having a secret life full of action, adventure and intrigue.
When Lucia and her dad come to stay for a week, Idris can't believe his bad luck. He had prepared himself to share the TV remote and maybe some of his toys, but he hadn't prepared himself for Lucia. Lucia LOVES spying and-worst of all-she is convinced that Idris' mum is a spy. And that just can't be true . . . can it?
But even Idris has to admit there is something a bit unusual about their family trip to the zoo. Were his eyes playing tricks on him, or did someone really drop something into Mum's bag? And why is Budi the orangutan, who is normally so cheerful, suddenly off his food?
Maybe it's time for some spying, after all . . .
Andy McNab (yes, that definitely-not-a-spy author) and Jess French (almost certainly a vet, TV presenter and international woman of mystery children's author) join forces in this fun action-packed adventure
Perfect for readers ages 7-10, spies, detectives, mystery solvers, and puzzle lovers alike