War Prizes: The Captured German, Italian and Japanese Aircraft of WWII (Hardcover)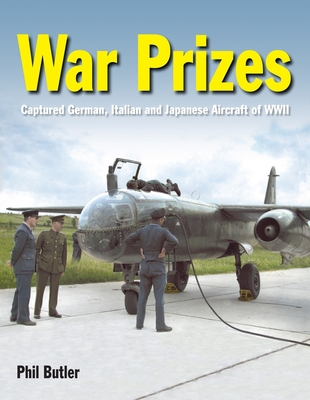 Description
---
This book is a meticulously researched review of the many German, Italian and Japanese aircraft taken to Allied counties or flown by the Allies during or after the Second World War. The history of these captured aircraft has been extensively researched and the book is copiously illustrated by an unrivalled selection of around 500 photographs, gleaned from around the world.
The book's chapters are devoted to chronological themes describing the individual histories of each aircraft and the units which flew them in the USA or France or in specific theatres of war, with a final chapter covering the use made of aircraft in other countries. Coverage includes civilian aircraft and sailplanes as well as military types; post-war production of German designs and details of surviving aircraft in museums. Appendices and indexes cover designation and marking systems, information sources and other useful background.
The UK chapters include coverage of RAF Farnborough, 1426 (EA) Flight, individual squadrons, experimental organizations and manufacturers, the ATAIU in Malaya and the little-known Gremlin Task Force. US chapters deal with evaluation at Wright Field, Freeman Field, and in Europe by Watson's Whizzers, by the US Navy TAIC at Anacostia, TAIUs in Australia and the Philippines and many individual units. The book also includes the most complete record published of British 'Air Min' and USAAF 'FE' and 'T2' aircraft numbering systems.
This new edition of an acclaimed titles first published nearly 30 years ago has been fully revised and updated. The opportunity has been taken to use modern technology to improve the quality of the images and many new photos uncovered since the original publication have been included.