I Could Read the Sky (Paperback)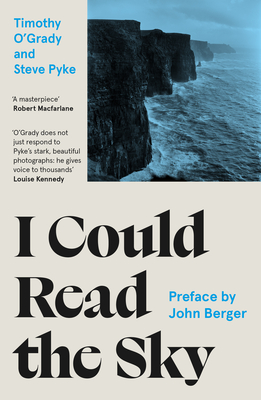 $24.95

Not in the store. We can order it and should have it in store in 3-5 business days.
Description
---
With a foreword by John Berger
I Could Read the Sky is a collaboration, in the shape of a lyrical novel, between writer Timothy O'Grady and photographer Steve Pyke.
It tells the story of a man coming of age in the middle of this century. Now at its end, he finds himself alone, struggling to make sense of a life of dislocation and loss. He remembers his childhood in the west of Ireland and his decades of bewildered exile in the factories, potato fields and on the building sites of England. He is haunted by the faces of the family he left behind and by the land that is still within him. He remembers the country and the seascapes, the bars and the boxing booths, the music he played, and the woman he loved.
This elegiac narrative is accompanied by a succession of photographs taken by Pyke during his travels in Ireland - from starkly beautiful landscapes to unforgettable portraits and scenes from everyday life - which in their counterpoint with the text produce a powerful evocation of the Irish emigrant experience.
About the Author
---
Timothy O'Grady was born in Chicago and has lived in Ireland, London, Spain and Poland. He is the author of four works of non-fiction and three novels. His novel Motherland won the David Higham award for the best first novel in 1989. His novel I Could Read the Sky, a collaboration with photographer Steve Pyke, won the Encore Award for best second novel of 1997. I Could Read the Sky was filmed and also travelled as a stage show. His most recent novel is Light, published in 2004.In the 1970s, Steve Pyke was a punk rocker with an itch to do something more singular. He borrowed a friend's camera and since that time has photographed for every major magazine. His work has been exhibited worldwide and is held in many international permanent collections.Storyteller, novelist, essayist, screenwriter, dramatist and critic, John Berger (1926-2017) was one of the most internationally influential writers of the last fifty years. His many books include Ways of Seeing; the fiction trilogy Into Their Labours; Here Is Where We Meet; the Booker Prize-winning novel G; Hold Everything Dear; the Man Booker-longlisted From A to X; and A Seventh Man.