A New Perspective for the Use of Dialect in African American Spirituals: History, Context, and Linguistics (Hardcover)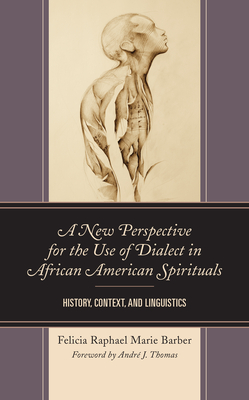 Description
---
A New Perspective for the Use of Dialect in African American Spirituals: History, Context, and Linguistics investigates the use of the African American English (AAE) dialect in the musical genre of the spiritual. Perfect for conductors and performers alike, this book traces the history of the dialect, its use in early performance practice, and the sociolinguistic impact of the AAE dialect in the United States. Felicia Barber explores AAE's development during the African Diaspora and its correlations with Southern States White English (SSWE) and examines the dialect's perception and how its weaponization has impacted the performance of the genre itself. She provides a synopsis of research on the use of dialect in spirituals from the past century through the analysis of written scores, recordings, and research. She identifies common elements of early performance practice and provides the phonological and grammatical features identified in early practice. This book contains practical guide for application of her findings on ten popular spiritual texts using the International Phonetic Alphabet (IPA). It concludes with insights by leading arrangers on their use of AAE dialect as a part of the genre and practice.
About the Author
---
Felicia Raphael Marie Barber is director of choral activities at Westfield State University.
Thank you for shopping local!