Poor Naked Wretches: Shakespeare's Working People (Hardcover)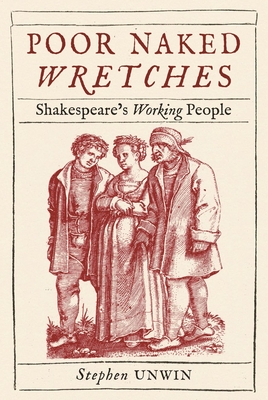 $27.50

Not in store, not in stock at our distributor. Once you place the order, we can give you a better time frame.
Description
---
Disputing the notion that William Shakespeare scorned the rabble, an illuminating look at the complex working people of his plays.
 
Was Shakespeare a snob? Poor Naked Wretches challenges the idea that one of the greatest writers of the English language despised working people, showing that he portrayed them with as much insight, compassion, and purpose as the rich and powerful. Moreover, working people play an important role in his dramatic method. Stephen Unwin reads Shakespeare anew, exploring the astonishing variety of working people in his plays, as well as the vast range of cultural sources from which they were drawn. Unwin argues that the robust realism of these characters, their independence of mind, and their engagement in the great issues of the day, make them much more than mere comic relief. Compassionate, cogent, and wry, Poor Naked Wretches grants these often-overlooked figures the dignity and respect they deserve.
About the Author
---
Stephen Unwin is a London-based theater and opera director, who founded English Touring Theatre in 1993 and opened the Rose Theatre, Kingston in 2008. His books include (with Kenneth McLeish) The Faber Pocket Guide to Shakespeare's Plays, and his original plays include All Our Children.
Praise For…
---
Winner - Best Book, Publication or Recording
— Falstaff Awards 2022 (PlayShakespeare.com)

"This study comes from Unwin's work as a theatre director, and his frustration with the way the industry traditionally treats Shakespeare's working-class characters. As an introduction to the characters themselves . . . Poor Naked Wretches usefully and enjoyably allows us to focus on roles that are not usually placed centre stage."
— Times Literary Supplement

"Aiming to upend the notion that Shakespeare was a snobbish playwright with contempt for the poor . . . . This original spin on Shakespearean studies delivers."
— Publishers Weekly

"Unwin's book, his title recalling Lear's anguish at his long neglect of the poor, is as crisp as those productions, and beautifully illustrated with sixteenth-century engravings . . . This is a fresh, moving, richly rewarding book by an old Shakespeare hand whose knowledge of the plays is deep and humane."
— The Tablet (UK)

"All who relish the Bard will be delighted by stage director Stephen Unwin's terrific book Poor Naked Wretches: Shakespeare's Working People. For my money, the volume should be made required reading for all the directors who routinely patronize Shakespeare's proletarian characters, treating them as dumb clowns, only fit for 'comic relief.' This study makes a convincing case that the Bard's concern for the lower classes is essential to how he sees the world, and that his radical sensitivity to political injustice is closer in spirit to the iconoclasm of Bertolt Brecht and Karl Marx than many critics will admit."
— ArtsFuse

"Poor Naked Wretches is a compelling read for a general audience of Shakespeare and theater practitioners and enthusiasts. . . . Unwin's approach, which includes equal consideration of all of the figures on the stage, demonstrates the value of reading Shakespeare in terms of performance. In doing so, Unwin argues that Shakespeare creates a vast world of individualized characters from across society."
— Choice

"Unwin's strength is that he comes from a theatrical background, and has spent years working to bring these people to life on the stage. This first-hand, practical experience informs every chapter of this well-considered and detailed text. Throughout its pages, the reader gets the sense that each example, each paragraph, is based on decades of discussions, trials and errors. It is obvious that Unwin knows the plays inside-out, not just as texts to be examined but as living, breathing entities that, when performed, represent all of the varying shades of humanity."
— Get History