Romantic Medicine and the Gothic Imagination: Morbid Anatomies (Gothic Literary Studies) (Hardcover)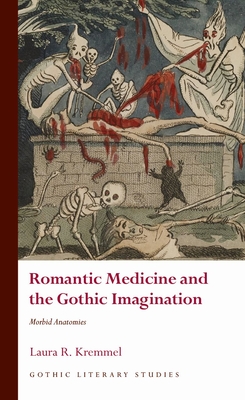 $105.60

Not in store, not in stock at our distributor. Once you place the order, we can give you a better time frame.
Description
---
An account of the intersection of the Gothic and the medical imaginations in the Romantic era.
 
This book demonstrates a little-studied crossover between the Gothic imagination and the medical imagination in the Romantic period. Unafraid to explore the gore and uncertainty typical of medical experimentation, Laura R. Kremmel argues, Gothic novels, short stories, poetry, drama, and chapbooks expanded the possibilities of medical theories by showing what they might look like in a speculative space without limits. In comparing the Gothic's collection of unsavory tropes to morbid anatomy's collection of diseased organs, Kremmel shows that the Gothic's prioritization of fear and gore gives it access to non-normative bodies, shifting medical and narrative agency to bodies considered powerless. Each chapter pairs a familiar gothic trope with a critical medical debate; the result is to give silenced bodies power over their own narratives.
About the Author
---
Laura R. Kremmel is assistant professor of English at South Dakota School of Mines & Technology.
Praise For…
---
"This volume is an exhilarating exploration of the shadowy hinterland that was shared by medical discourse and Gothic writing in the late-eighteenth and early-nineteenth centuries. Across five engaging and fluently written chapters, the book brilliantly reveals the extent to which some of the Gothic's most distinctive and enduring tropes—blood, corpses, skeletons, disabled bodies—were steeped in contemporary medical thought, all the while reminding us that Romantic medicine was itself inevitably a Gothic affair. As major a contribution to Gothic Studies as it is to the fields of Romanticism and the Medical Humanities more broadly, Romantic Medicine is an extraordinary feat of critical revivification that infuses fresh life-blood into the pathological corpus of early Gothic romance, poetry and drama."

 
— Dale Townshend, Professor of Gothic Literature, Manchester Centre for Gothic Studies

"An inventive, authoritative, and engaging inquiry into the medical background lurking behind some of the best-known—and once most-maligned—Gothic literature, Laura Kremmel's Romantic Medicine and the Gothic Imagination reveals how the study of 'morbid anatomy' both grounds and complicates literary narratives about nonnormative, 'disobedient' bodies. This book is a necessary addition to the critical field of Romantic medicine."
 
— Michelle Faubert, Professor of Romantic Literature, University of Manitoba; Visiting Fellow, Northumbria University

"This is a gripping, important analysis of the way Gothic representation and the medical imaginary converge in the eighteenth and nineteenth centuries. Kremmel's elegant analysis shows how Gothic functioned as a speculative force, both embracing and challenging period thinking about death and disease. Emphasizing diverse practices and agents, Kremmel demonstrates the decentralization of medical agency and authority at this period. This book enriches the fields of Romanticism, the Gothic, and medical humanities."
 
— Dr. Sara Wasson, Reader in Gothic Studies, Lancaster University
Thank you for shopping local!