Wanting You to Want Me: Stories from Secret World of Strip Clubs (Hardcover)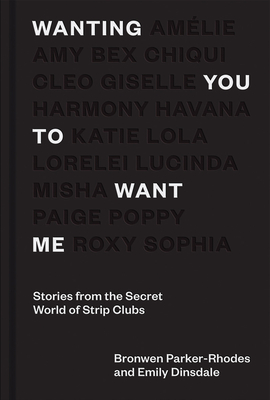 $24.99

Backordered at our distributor but we can check availability from the publisher.
Description
---
Wanting You to Want Me is a collection of anonymous stories from the world of London strip clubs, documented by the women themselves.

The stories range from behind-the-scenes conversations in the changing rooms, to dancefloor and private room etiquette, from emotional and intellectual connections between dancer and client, to the often-blurred boundaries that exist in between.

Journalist Emily Dinsdale and filmmaker Bronwen Parker-Rhodes have collected images and stories from the women working in the London strip clubs over several years. Having been part of the industry themselves, they have a unique and intimate access to the seldom-heard stories, giving voice to an age-old industry, from the perspective of the traditionally voiceless workers.

Supported by original, behind the scenes photography from the authors, these narratives express vulnerability, empowerment, curiosity and the complexity and duplicity of relationships—in short, what it is to be human.
About the Author
---
As a freelance culture writer, Emily Dinsdale has contributed to many magazines including Dazed, AnOther and Under The Influence. She's now an art writer at Dazed Digital and the founder of literary event Luxury Book Club.

Bronwen Parker-Rhodes is a film maker and photographer who has produced and directed films for Channel 4, BBC, The New York Times, Tate, Christie's, Nowness, and Vice.
Praise For…
---
"There are no easy answers here, no unified narrative. But there is honesty: about how stripping can be a source of both shame and freedom at the same time..." -Kat Rosenfiel, UnHerd
"The duo's collection of anonymous real-life stories from strippers...transports readers into the beating heart of the club and the intimate dressing room areas where dancers gossip, get ready and hang out." -Zing Tsjeng, VICE
"The duo's collection of anonymous real-life stories from strippers...transports readers into the beating heart of the club and the intimate dressing room areas where dancers gossip, get ready and hang out." -Zing Tsjeng, VICE
"There are no easy answers here, no unified narrative. But there is honesty: about how stripping can be a source of both shame and freedom at the same time..." -Kat Rosenfiel, UnHerd