Latinx: The New Force in American Politics and Culture (Paperback)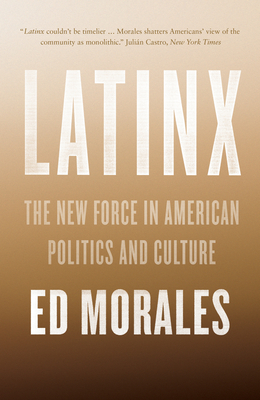 $19.95

Likely on our shelves now
Description
---
An "erudite, comprehensive" analysis of Latinx identity in the United States as it relates to American culture, society, and politics (Eduardo Bonilla-Silva, author of Racism Without Racists)
 
"Latinx" (pronounced "La-teen-ex") is the gender-neutral term that covers one of the largest and fastest growing minorities in the United States, accounting for 17 percent of the country. Over 58 million Americans belong to the category, including a sizable part of the country's working class, both foreign and native-born. Their political empowerment is altering the balance of forces in a growing number of states. And yet Latinx barely figure in America's ongoing conversation about race and ethnicity. Remarkably, the US census does not even have a racial category for "Latino."
 
In this groundbreaking discussion, Ed Morales explains how Latinx political identities are tied to a long Latin American history of mestizaje—"mixedness" or "hybridity"—and that this border thinking is both a key to understanding bilingual, bicultural Latin cultures and politics and a challenge to America's infamously black–white racial regime. This searching and long-overdue exploration of the meaning of race in American life reimagines Cornel West's bestselling Race Matters with a unique Latinx inflection.
About the Author
---
Ed Morales is an author, journalist, filmmaker, and poet who teaches at Columbia University. He is the author of The Latin Beat and Living in Spanglish. He has written for the Village Voice, Nation, New York Times, Rolling Stone, and other publications and is a regular commentator on NPR. His film Whose Barrio? premiered at the New York Latino International Film Festival. He lives in New York City.
Praise For…
---
"The book's deep dive into the crosscurrents of Latinx identity is a powerful reminder that, as Americans wrestle with questions about who is and who is not 'American'—and, indeed, questions about what it means to be an American in the 21st century—the nation can benefit immensely from the robust inclusion and understanding of a community that has spent generations grappling with nearly every facet of its own identity."
—Julian Castro, New York Times

"Despite their long history in the United States, Latinx have never been more misunderstood than today. Morales offers a necessary history lesson and a provoking argument about the key role they could potentially play in fostering an intersectional politics around gender, sexuality, nationality and race. A hopeful intervention, just when we need it most."
—Arlene Dávila , author of Culture Works

"Scholar and journalist Ed Morales has written an evocative work of critique that weaves together memoir, history, and critical race theory in ways that deepen our understanding of the evolving nature of Latinx identity and politics. Hemispheric in approach and capacious in scope, Latinx is an eloquent meditation on the political and cultural possibilities of a population that is both growing and heterogeneous."
—Cristina Beltrán, author of The Trouble with Unity

"This is a book of immense national importance to Latinos and to the rest of America, too. Morales explores a complex cultural ethnicity, illuminating another practice of being American and another future for the Americas."
—Victor Hernández Cruz, author of Beneath the Spanish

"Latinx is an erudite, comprehensive, politically astute, often poetic, and racially deep analysis of a quickly growing racialized group in the US. Morales covers Latinx history from the conquest to Trump's victory while providing a cogent vision for how they may advance their standing in the mean streets of America. Every progressive needs to read this book."
—Eduardo Bonilla-Silva, author of Racism Without Racists

"A sprawling study of Hispanic identity in the United States … Ed Morales stresses the 'in-between space' that Latinos inhabit, crossing racial, national, cultural and gender identities and sometimes falling into the cracks."
—Carlos Lozada, Washington Post

"The term Latinx is here to stay, and according to journalist and author Ed Morales, it's reflective of the mixed-race and multicultural history of Latinos—and our country's future … Ed Morales examines how Latinx people figure into America's conversations about race and ethnicity, while exploring the contradictions surrounding Latino American identity."
—Raul A. Reyes, NBC News

"An important contribution."
—Morning Star

"In a volume that offers once an survey of histories and contemporary trends of Latinx identity in the United States and a gesture toward a radical political potential predicated on such identity, Morales argues that 'the Latinx view of race, inherited from nation-building ideologies that lionized race-mixing in Latin America, poses narratives that challenge and resist' the black–white binary which dominates Anglo-American thinking."
—Spencer Dew, Religious Studies Review
Thank you for shopping local!