Batman: The Long Halloween Haunted Knight Deluxe Edition (Hardcover)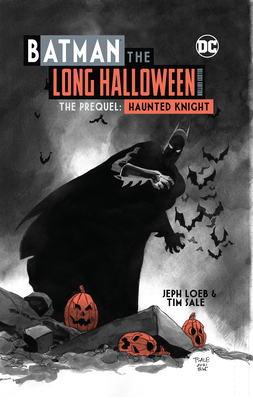 $49.99

Not in the store. We can order it and should have it in store in 3-5 business days.
Description
---
On All Hallow's Eve, there's no telling what will haunt the Dark Knight.

This haunting collection contains the tales of three Halloweens—Batman: Legends of the Dark Knight Halloween Special #1, Batman: Madness - A Legends of the Dark Knight Halloween Special#1, and Batman: Ghosts, A Legends of the Dark... #1.

One Halloween during Batman's early years, the Scarecrow is on the prowl in Gotham City, forcing the Dark Knight into a furiously frightful game of cat and mouse.

In another, all Hallows Eve has come 'round again...and the Dark Knight of Gotham City has a midnight appointment with terror when he faces the twisted genius of the Mad Hatter!

And in yet another, Bruce Wayne's tortured sleep is violated by four specters: the spirit of his murdered father, the Ghost of Halloween Past, the Ghost of Halloween Present and a mysterious Ghost of Halloween Future. But what do they want of the Dark Knight?
About the Author
---
Jeph Loeb is the author of Batman: The Long Halloween, Batman: Dark Victory, Superman for All Seasons, Catwoman: When in Rome, Challengers of the Unknown Must Die!, Spider-Man: Blue, Daredevil: Yellow and Hulk: Gray--all of which were collaborations with artist Tim Sale. He has also written Superman/Batman, Supergirl, The Witching Hour, Cable, X-Man, X-Force, The Ultimates 3 and various other books. His TV and movie credits include Teen Wolf, Heroes, Commando, Buffy: The Animated Series and Smallville.