Hot to Trot (Paperback)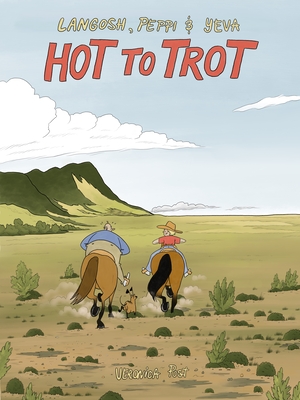 $25.00

Not in store, not in stock at our distributor. Once you place the order, we can give you a better time frame.
Description
---
"Hot To Trot is a beautifully told story of friendship, introspection, personal growth and empathy. I don't just read Veronica Post's comics, I dive into them."--Noah Van Sciver

As Langosh and Yeva embark on an epic cross-country journey, they discover that old wounds--and differing personal experiences--have begun to threaten their close-knit friendship.
The landscape of America creates a constantly evolving backdrop to their emotional voyage. As they explore big cities, small towns, prairies and mountains, Langosh opens up to Yeva about his experience of police brutality, and the stark difference between how they respond to the situation leads to deep reflection on how the past informs their current choices.
The more they seek to influence each other, the more obscured their path becomes. As Yeva comes to understand the unjust act of violence that changed his life forever, she struggles with how Langosh decides to respond to what happened. Have the values that he formed in response to harm become barriers to his personal growth? Is Yeva callous to the realities that he faces? Can they stay true to themselves and keep their friendship alive?
Influenced by Jillian Tamaki, Kate Beaton and Guy Delisle, Veronica Post examines how we respond to structual harm, the power and limitations of personal agency and the divide between individual freedoms and collective responsibility.
About the Author
---
Veronica Post is an award-winning graphic novelist and multi-disciplinary artist based in Halifax, Nova Scotia. She attended University for Philosophy and Fine Arts, before moving to Montreal where she completed her studies in cabinetmaking, and discovered the DIY culture of self-published zines. She joined a zine distro and began creating comics, while following a path towards becoming a furniture-maker. Her path took a turn when she left Montreal for the allure of travel. She spent 8 years exploring Canada, America and Eastern Europe, where she began working on what would become Fugitive Days. Today, she continues to create comics based on her life with her characters Langosh and Peppi.