Paradise Won: The Struggle to Create Gwaii Haanas National Park Reserve (Paperback)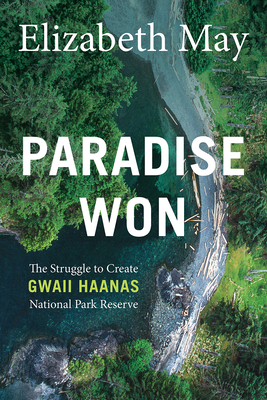 $25.00

Not in the store. We can order it and should have it in store in 3-5 business days.
Description
---
Originally published in 1990, Paradise Won has been updated and details the epic 12-year struggle to stop logging in the unique global ecosystem referred to as "Canada's Galapagos."
Gwaii Haanas National Park Reserve is located in the southernmost part of Haida Gwaii (formerly known as the Queen Charlotte Islands), 130 kilometres off the mainland of British Columbia, Canada. Gwaii Haanas protects an archipelago of 138 islands in the territory of the Haida people, who have lived in Haida Gwaii for well over 14,000 years.
From the 1970s through the early 1980s, plans to expand logging in the area led to the first concerted efforts to protect Gwaii Haanas and - in 1985 - the Haida Nation created the "Haida Heritage Site." In spite of efforts to protect the landscape, logging continued and resulted in a prolonged legal and political battle. In 1987, logging finally ended when the governments of Canada and British Columbia signed the South Moresby Memorandum of Understanding, which safeguarded the area and permitted shared stewardship, treating the unique marine and terrestrial environments as though they were a national park, though many land claims were still outstanding.
This updated edition of Paradise Won includes a new foreword by the author and will bring back into focus this remarkable story of the power and importance of Indigenous rights and how activism can spur average citizens to action in order to fight climate change and protect fragile ecosystems everywhere.
About the Author
---
Elizabeth May is the Green Party Member of Parliament for the southern Vancouver Island riding of Saanich-Gulf Islands and served as leader of the Green Party of Canada from 2006-2019. In the 2011 federal election, Elizabeth made history by being the first Green Party candidate to win a seat in the House of Commons and was re-elected in 2015 and 2019. By a vote of her peers, she was named Parliamentarian of the Year in 2012. In 2015, Newsweek magazine named her one of the world's most influential women. She has a long record as a committed and dedicated advocate - for social justice, the environment, human rights, and pragmatic economic solutions. She is the author of eight books, most recently Who We Are: Reflections on My Life and Canada. She has served on the boards of numerous organizations, including the International Institute for Sustainable Development; vice-chair of the National Round Table on Environment and Economy; executive director of the Sierra Club of Canada; and as a commissioner of the Earth Charter International Council. Elizabeth May lives in Sidney, British Columbia.