I Want You (Paperback)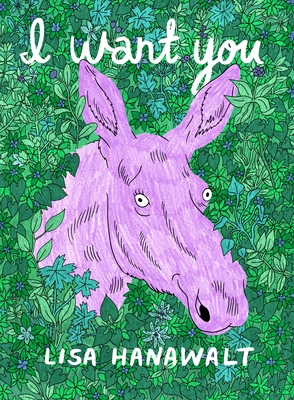 $21.95

Not in the store. We can order it and should have it in store in 3-5 business days.
Description
---
The filthy, funny early work from the acclaimed illustrator and Bojack Horseman production designer

Before the critically acclaimed animated shows, the bestselling graphic novel Coyote Doggirl, or the humor collections Hot Dog Taste Test and My Dirty Dumb Eyes, cartoonist Lisa Hanawalt was a comic-book-industry sensation with her Ignatz Award-winning minicomic series I Want You. Hanawalt's outlandish humor and ingenious formalism are evident in the comics collected here. Her love of anthropomorphism and scatology are on full display, all lovingly and grotesquely drawn by Hanawalt in obsessive, unnerving detail.

The stars here are She-Moose, who we join sex-toy shopping, and He-Horse, who we learn mid-flight suffers from ornithophobia. The true star of I Want You may just be Hanawalt's hilarious command of the graphic listicle. "Top Causes of Freeway Accidents" is a prescient pre-BoJack display of Hanawalt's love for all things equine. "Things We Are Sorry We Did Last Night" includes the murder of all Hanawalt's Google doppelgängers. Whether she's discussing the daily commute or masturbation, she packs each comic in I Want You with punchy cultural observations and sharp-witted reflections on typically taboo subjects. A master humorist, Hanawalt strikes the perfect balance between drawing the gorgeous and the repugnant, the fantastical and the lifelike, the bizarre and the hilarious—creating a deeply human experience that everyone can relate to.
About the Author
---
Lisa Hanawalt is an artist living in Los Angeles, CA. She is the creator of the animated series Tuca and Bertie—which will be premiering its second season on Adult Swim in 2021—and the production designer/producer on Netflix's Bojack Horseman. Lisa has worked on illustrations, book covers, animations, comics, and textile patterns. She co-hosts the podcast Baby Geniuses with comedian Emily Heller. Lisa has published three previous books with Drawn & Quarterly: My Dirty Dumb Eyes, Hot Dog Taste Test, and Coyote Doggirl.
Praise For…
---
"In a new collection of Hanawalt's early minicomic work, I Want You, you can see the cartoonist's sensibilities — that penchant for slamming the manic and mundane into each other, to see what happens — coalescing into an aesthetic that belongs to her and her alone."
—Glen Weldon, NPR

"The shorts collected in the book also preview the kind of work that would feature in Hanawalt's collections Hot Dog Taste Test and My Dumb Dirty Eyes, combining observational comedy, surrealist flights of fancy and unexpected beauty into something that is uniquely Hanawalt, and relentlessly funny."
—The Hollywood Reporter

"Hanawalt's art has always explored the anxieties, humiliations, and vulnerabilities that come with living in a human body... Its underlying honesty is what continues to strike a chord with readers and viewers."
—Vox

"Hanawalt is a master of excess, and her early work is a marvel." —San Francisco Weekly

"A brilliant collection from an audacious and boldly inventive cartoonist with a distinct and necessary perspective."
—Library Journal, Starred Review

"[These comics] hit as freshly funny and subversive, and will appeal to dedicated fans of Hanawalt's peculiar oeuvre as well as those just getting an introduction." —Publishers Weekly

"Her artfully drawn, frequently dark, generally hilarious panels are characterised by their distinctive use of an all-animal cast, in which universal bummers like self-doubt, loneliness, putting-your-foot-in-it, intimacy struggles and general low-level misery are played out with a profound sense of empathy and no shortage of gross-out humour." —Elephant

"Hanawalt is a woman of many talents... I Want You is a compilation of Hanawalt's early mini comics, illustrations, and art. It is her at the very beginning of it all." —The Rumpus

Thank you for shopping local!