Moorish: Flavours from Mecca to Marrakech (Hardcover)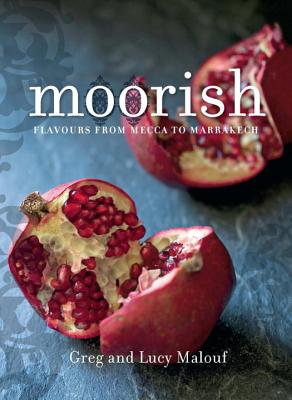 $29.95
Alas, not available through us.
Description
---
Moorish is designed to seduce you: to stimulate your imagination, invigorate your senses, and tempt you to try every wonderful flavor. Greg and Lucy Malouf have compiled this collection of mouth-watering recipes inspired by the flavors of North Africa, Spain, the Eastern Mediterranean, and the Middle East - regions united by a common thread that winds its way back to Arabia.

Moorish begins with recipes for spice blends, dressings, relishes, pickles, and preserves that best define the cuisine. With these basics, you'll be able to transform the most mundane ingredients into delicious snacks and soups, meat, vegetable and poultry dishes, and irresistible cakes and desserts. Toss preserved lemon through risotto, or spice up a Sunday lamb roast with a baharat spice mix. Transform humble chicken paillard with savory cumin butter, or try Atlantic salmon grilled with sumac. For dessert, make a delectable mango tart filled with orange-blossom water or liven up weekend breakfast with hot lemon fritters and cinnamon sugar.

Greg and Lucy want people to become as comfortable with the ingredients, techniques, and dishes in Moorish as they are with more familiar foods. They want you to be able to whip up chermoula as readily as pesto; to be as comfortable with tagines as with casseroles. They want spices such as sumac and saffron to become as much a part of your repertoire as basil and rosemary.

Beautifully photographed and written in Lucy's engaging style, Moorish is, above all, a passionate celebration of flavor that will inspire and delight the adventurous home cook.
About the Author
---
Widely acclaimed as the master of modern Middle Eastern cooking, Greg Malouf has worked extensively in Europe and Asia, travels widely for master classes and guest-chef appearances, and consults to restaurants around the world.

Lucy Malouf is a Melbourne-born food writer and editor. She is a regular contributor to newspapers, magazines, restaurant guides, and websites. Together with her former husband, Greg Malouf, she is the co-author of Arabesque, Saha, Turquoise, Saraban, and New Middle Eastern Food.
Thank you for shopping local!