Grease Bats (Paperback)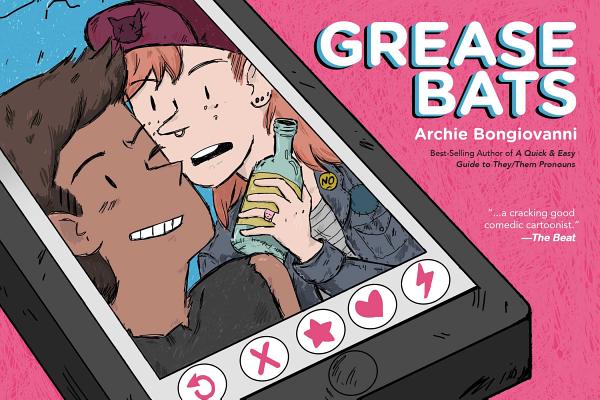 $19.99

Not in store, not in stock at our distributor. Once you place the order, we can give you a better time frame.
Description
---
So, no one told you life was gonna be this gay! Grease Bats stars Andy, a trans genderqueer individual who is both tough and loving, and their BFF Scout, an all-feelings-all-the-time mistake-maker.

Andy and Scout are best buds, roommates, and gay disasters. Along with their friends and plenty of beer, they're just trying to make it through their 20s, survive late capitalism, and navigate the dating world. Tough and loving Andy is a genderqueer trans individual, who dates like there's no tomorrow, while Scout, an all-feelings-all-the-time mistake-maker, is still languishing over her ex-girlfriend…from like two years ago.

Created by Archie Bongiovanni (The Quick and Easy Guide to They/Them Pronouns) and originally published on Autostraddle, this edition collects all the best misadventures, internet dates, and bad decisions in one place!
About the Author
---
Archie Bongiovanni is queer cartoonist living in Minneapolis whose work has been published online, in anthologies, and in mini-comics, and whose first graphic novel, Out of Hollow Water, was published by 2D Cloud in 2013. They are the creator of The Grease Bats, a monthly webcomic for the queer feminist website Autostraddle, as well as a contributing cartoonist to Everyday Feminism.