F*ck Like a Goddess: Heal Yourself. Reclaim Your Voice. Stand in Your Power. (Hardcover)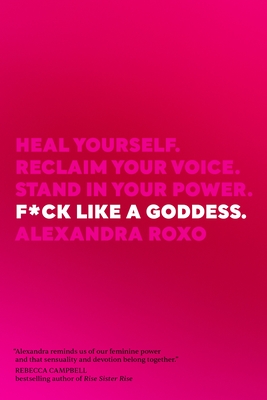 $24.99

Not in the store. We can order it and should have it in store in 3-5 business days.
Description
---
"I felt as if I had had a cathartic emotional experience not by talking but by following Ms. Roxo's coaching to tune into my energy and desire." —New York Times

What if your deepest fears and wounds were the KEY to living a turned on, passionate life, sharing your gifts with the world, and having mind-blowing orgasms along the way? And what if you could embrace all of you—all of your messy, wild, raw, sensual self—exactly as you are right now AND still feel good? This is what it means to f*ck like a goddess—literally and metaphorically. To let life make love to you and enjoy every bit, even the parts that hurt, and to find the magic in all of it. And this is your birthright.

So why is it so damn hard for women to simply feel comfortable in their own skin, let alone feel strong and secure enough to freely share their gifts with the world? "Because each of us has been conditioned, programmed, and literally brainwashed into thinking we are not enough," writes Alexandra Roxo," and it is up to us to rewrite that story."

A prominent voice in transformational healing and the divine feminine, Roxo shares tried-and-true methods that have led to both her own healing and that of hundreds of her coaching clients over the years.

"We are in need of an uprising of bold, wild women who have reclaimed their bodies and stand in their sacred sexuality for them," she writes. "As women, we need to liberate our voices, step into total security within ourselves, and fully own our raw, sensual power, finally letting go of the shame, guilt, denial, and repression that's been put upon us."

The methods in this book will inspire you, challenge you, bring up your resistance, and unleash your gifts. It won't always be easy, but if you do the work, you'll discover what it really feels like to f*ck like a goddess.
About the Author
---
Alexandra Roxo is a writer, artist, and cofounder of the online community and ritual program Radical Awakenings. Her writing on the intersection of spirituality, sexuality, and healing has been featured in Girlboss, Teen Vogue, MindBodyGreen, and more. Her artistic works that explore healing the modern female narrative have been viewed by millions and are available via Vice, Amazon, and Ora TV. She has been featured in the New York Times, Playboy, the Guardian, and Nylon magazine for her raw and sensual approach to healing and wellness. She has also been named a modern spiritual leader by Well+Good. She currently lives in Los Angeles. For more, visit alexandraroxo.com.
Praise For…
---
"Sharp, forceful debut … While Roxo's shrewd strategies are tailored for women, anyone eager for more intrepidness in their self-improvement will find dynamic strategies here." —Publishers Weekly

"In her new book, Alexandra Roxo reminds us of our feminine power and that sensuality and devotion belong together." —Rebecca Campbell, bestselling author of Rise Sister Rise and Light Is the New Black

"Alexandra Roxo is a true visionary. With this book, she is helping women everywhere to heal from the sexual trauma, body hatred, and distorted self-image that insidiously keep so many of us playing small. Rooted in the deeply personal process of facing and integrating her own demons, Alexandra's commitment to fearlessly walking her own talk is testament to her integrity as a spiritual leader for the now age." —Ruby Warrington, author of Material Girl, Mystical World and Sober Curious

"If you are ready to burst into a life where your body, sexuality, and voice are considered sacred, then devour the pages of F*ck Like a Goddess." —Sahara Rose, author of Eat Feel Fresh and host of the Highest Self Podcast

"Simply being around Roxo's exhilarating, vivacious presence is a revitalizing retreat in and of itself." —Kara Ladd, lifestyle partnerships editor, Harper's Bazaar

"If this book calls to you, it's because you've been hiding and your soul knows you have BIG work to do in this world. If you're ready to stop letting opinions or fear hold you back and unleash the most powerful version of you, apply what this book says to your life." —Lori Harder, author of A Tribe Called Bliss

"In this book, Alexandra guides us in embracing sacred practices that have been used for millennia to help us live our most embodied lives. Through ritual, breathwork, sex magick, and storytelling, Alexandra weaves a web of divine magick, guiding us back into our fullest potential of living in a state of presence and pure love. This book is written with so much tender care and compassion, while still being enticing and exciting. By using her own stories and experiences, Alexandra is able to effortlessly show us the path back to our truth, our freedom, and our sensual and delicious depths." —Gabriela Herstik, author of Bewitching the Elements and Inner Witch

"Juicy spirituality! The ultimate read for those ready to step into their whole damn self. I can imagine Lizzo has this on her nightstand." —Emma Mildon, bestselling author of The Soul Searcher's Handbook and Evolution of Goddess

"Come for the meditation coaching, stay to get in touch with the divine feminine within." —Marisa Meltzer, New York Times columnist

"Alexandra writes from the rawness of her heart and experience. Her gift is in liberating those around her by embodying her truth in every moment." —Lindsey Simcik and Krista Williams, Almost 30 podcast

"This Pisces beauty is such an authentic go-to for healing, transformation, and deep soul nourishment. Like a siren, she calls you to your own inner depths, and I feel her messaging is an integral part of the healing of the feminine that is happening on the planet right now." —Natalia Benson, women's empowerment coach and author of Mystical AF

"Alexandra takes you there. She walks with you. She talks to you. She's not afraid of the shadow and in integrating it brings more light to life. Her stories, her courage, and her voice resonating in every part of my body. Gratitude to her for walking her path and illuminating a path for so many women. Simple truths, clarity, and brave beauty make up her work and this book. Thank you, Alexandra." —Lisa Levine, founder of Maha Rose

"If you are ready to transform your relationship to your body, FINALLY find your joy, supercharge your confidence, and renew your connection to the Divine Feminine power you absolutely have inside you, you have to read this book. Alexandra Roxo has written a fiery, fiercely honest manifesto on self-love unlike anything else on the market. This is a real-as-f*ck guidebook on womanhood that welcomes ALL women into the conversation. A radical, positive, planetary shift fueled by unapologetic self-acceptance is embarking onto the next generation of women, and Roxo is leading the charge." —Jessica Zweig, CEO and founder of SimplyBe

"Alexandra is a powerhouse and this moving book reflects her story and others' stories. She shares with us for our own healing and growth potential. If you want to live fully alive, heal on a deep level, and step into the power that courses through you . . . read this book! Alexandra is unflinching in her storytelling! Her love for helping women heal from the deepest wounds of our crazy world is absolutely felt in her writing. What a voice! We need her NOW!" —Toni Bergins, founder of JourneyDance™, a Transformational Movement practice


"I am a huge fan of Alexandra, both as a friend and colleague, and I am absolutely overjoyed to celebrate the success of her book! She is an utterly amazing teacher with a powerful and clear methodology that elicits serious results. Her insights and energy are an incredibly potent source of inspiration and healing to women. F*ck Like a Goddess is a stunning distillation of Alexandra's mission, overflowing with loving and invaluable wisdom to help women unlock their potential to overcome their boundaries and explore a more limitless feminine existence. It is a must-read!" —Sah D'Simone, meditation and spiritual teacher and author of 5-Minute Daily Meditations