Corporate Coup: Venezuela and the End of Us Empire (Paperback)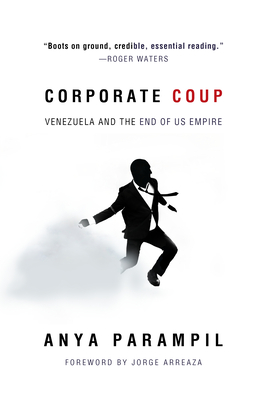 $23.95

Coming Soon - Available for Pre-Order Now
Description
---
Corporate Coup looks at the attempted overthrow of the elected government of Venezuela, an intervention which, despite open backing by the United States, failed spectacularly.
In January of 2019, the Trump Administration recognized a little-known opposition lawmaker named Juan Guaid as President of Venezuela. While Washington's history of coups in Latin America is well-documented, this step was unprecedented: Never before had the United States offered legal recognition to a new government before an actual change in leadership had taken place.
Within months it became clear that the attempt at regime change had fallen flat: all Venezuelan territory, government ministries, and the country's military remained under the control of President Nicol's Maduro. While US officials, notably Trump's Venezuela Envoy Elliott Abrams, boasted that roughly 54 countries had followed Washington's lead in recognizing Guaid 's authority, the vast majority of United Nations member states rejected the attempted coup. Four years on, Venezuela's government is firmly in place and Guaid is nowhere to be seen.
In this fast-paced story, investigative reporter Anya Parampil provides a narrative history of the Chavista revolution and offers character sketches of the figures who took over its leadership after Hugo Ch vez's death in 2014. She shows how Guaid 's shadow regime consisted of individuals with deep connections to transnational corporations that sought to overturn the revolution and exploit Venezuela's resources. In particular she uncovers their plot to steal Citgo Petroleum, the country's most valuable international asset. Corporate Coup exposes the hidden personalities and interests driving US policy on Venezuela, revealing that while the recognition of Guaid failed at changing reality on the ground in Caracas, it succeeded in facilitating the unprecedented looting of the country's extensive foreign reserves.
This gripping story from Venezuela shines light on the grim, shadowy character of a US foreign policy that tramples on democratic norms around the globe. And it points to a dramatic consequence of such policy: the rise of a new, multipolar world heralding the end of US empire.
About the Author
---
Anya Parampil is a journalist for the independent newsite The Grayzone, based in Washington, DC. She has produced and reported several documentaries, including on-the-ground dispatches from the Korean peninsula, Palestine, Venezuela, and Honduras.