The Forgotten First: Kenny Washington, Woody Strode, Marion Motley, Bill Willis, and the Breaking of the NFL Color Barrier (Compact Disc)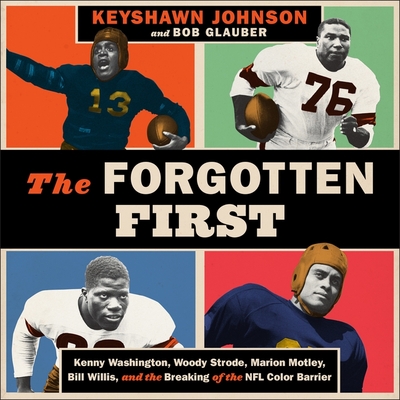 $40.00

Backordered at our distributor but we can check availability from the publisher.
Description
---
The unknown story of the Black pioneers who collectively changed the face of the NFL in 1946.
The Forgotten First chronicles the lives of four incredible men, the racism they experienced as Black players entering a segregated sport, the burden of expectation they carried, and their many achievements, which would go on to affect football for generations to come.
More than a year before Jackie Robinson broke the color barrier in Major League Baseball, there was another seismic moment in pro sports history. On March 21,1946, former UCLA star running back Kenny Washington--a teammate of Robinson's in college--signed a contract with the Los Angeles Rams. This ended one of the most shameful periods in NFL history, when African-American players were banned from league play.
Washington would not be alone in serving as a pioneer for NFL integration. Just months after he joined the Rams, thanks to a concerted effort by influential Los Angeles political and civic leaders, the team signed Woody Strode, who played with both Washington and Robinson at UCLA in one of the most celebrated backfields in college sports history. And that same year, a little-known coach named Paul Brown of the fledgling Cleveland Browns signed running back Marion Motley and defensive lineman Bill Willis, thereby integrating a startup league that would eventually merge with the NFL.
The Forgotten First tells the story of one of the most significant cultural shifts in pro football history, as four men opened the door to opportunity and changed the sport forever.