Now Beacon, Now Sea: A Son's Memoir (Hardcover)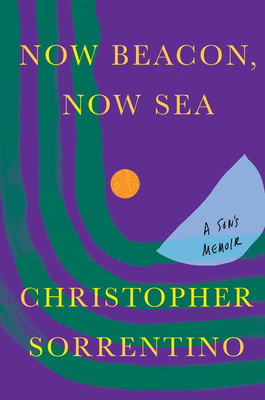 $26.00

Not in the store. We can order it and should have it in store in 3-5 business days.
Description
---
A NEW YORK TIMES NOTABLE BOOK OF THE YEAR

A wrenching debut memoir of familial grief by a National Book Award finalist—and a defining account of what it means to love and lose a difficult parent, for readers of Joan Didion and Dani Shapiro.

When Christopher Sorrentino's mother died in 2017, it marked the end of a journey that had begun eighty years earlier in the South Bronx. Victoria's life took her to the heart of New York's vibrant mid-century downtown artistic scene, to the sedate campus of Stanford, and finally back to Brooklyn—a journey witnessed by a son who watched, helpless, as she grew more and more isolated, distancing herself from everyone and everything she'd ever loved.

In examining the mystery of his mother's life, from her dysfunctional marriage to his heedless father, the writer Gilbert Sorrentino, to her ultimate withdrawal from the world, Christopher excavates his own memories and family folklore in an effort to discover her dreams, understand her disappointments, and peel back the ways in which she seemed forever trapped between two identities: the Puerto Rican girl identified on her birth certificate as Black, and the white woman she had seemingly decided to become. Meanwhile Christopher experiences his own transformation, emerging from under his father's shadow and his mother's thumb to establish his identity as a writer and individual—one who would soon make his own missteps and mistakes.

Unfolding against the captivating backdrop of a vanished New York, a city of cheap bohemian enclaves and a thriving avant-garde—a dangerous, decaying, but liberated and potentially liberating place—Now Beacon, Now Sea is a matchless portrait of the beautiful, painful messiness of life, and the transformative power of even conflicted grief.

"Acute, intimate and exceedingly fair, Sorrentino's memoir is a post-mortem that examines not the causes of his parents' deaths but the endurance and effects of their confounding marriage . . . This is the story of a son who is trying to dissect and understand the love that remains—and sometimes emerges—after death. We may have a greater cultural appetite for eulogies, but an autopsy, in looking directly at the cold corpse of a family in all its gruesomeness and mystery, can be just as profound, and in the hands of a writer as restrained and humane as Sorrentino, just as beautiful." —Eleanor Henderson, The New York Times Book Review
About the Author
---
Christopher Sorrentino is the author of six books, including Trance, a National Book Award finalist, and The Fugitives. His work has appeared in Esquire, Harper's Magazine, The New York Times, The Paris Review, Playboy, and many other publications. He has taught at Columbia University, New York University, The New School, and Fairleigh Dickinson University. He lives with his family in New York City.
Praise For…
---
A New York Times Book Review Editors' Choice & Notable Book of the Year

"Acute, intimate and exceedingly fair, Sorrentino's memoir is a post-mortem that examines not the causes of his parents' deaths but the endurance and effects of their confounding marriage . . . This is the story of a son who is trying to dissect and understand the love that remains—and sometimes emerges—after death. We may have a greater cultural appetite for eulogies, but an autopsy, in looking directly at the cold corpse of a family in all its gruesomeness and mystery, can be just as profound, and in the hands of a writer as restrained and humane as Sorrentino, just as beautiful." —Eleanor Henderson, The New York Times Book Review

"For fans of Vivian Gornick's memoirs that bring back a New York that's pretty much vanished at this point . . . It's a very clear-headed look at a family and what it means to come from strange people, which we all do, by definition." —John Williams, The New York Times Book Review podcast

"Mothers and sons have rarely been captured with such dark intimacy as in Now Beacon, Now Sea, an open wound of grief and regret." —Esquire

"Now Beacon, Now Sea is an ambitious balancing act of summary and scene that painstakingly reveals an unsettled mind doing the work of reconfiguring its understanding of the past." —Richard Scott Larson, Chicago Review of Books

"With excoriating candor, with empathy enough to give you gooseflesh, [Sorrentino] gleans exciting new clues in that never-ending mystery, the lives of the artists." —John Domini, The Los Angeles Review of Books

"Sagacious and heartbreaking . . . Christopher Sorrentino has written a stunning, gutting memoir about his life as the son of a chronically depressed mother and a celebrated writer father." —Nell Beram, Shelf Awareness

"[A] raw and intimate memoir . . . Even at its darkest, this rich narrative shines." —Publishers Weekly

"Well-written . . . an unvarnished portrait of a family." —Kirkus Reviews

"The mother at the heart of Sorrentino's absolutely compelling memoir represents a generation of women whose lives were based on mystery and chance, on reinvention and the fierce reach for survival. But it's the sharpest shards of detail in her existence that make this so readable—this son's talent for capturing the secret life of a woman once his unreachable light, the beacon, and then the diffuse memory of the sea." —Susan Straight, author of In The Country of Women

"Christopher Sorrentino's memoir is an incredibly moving masterpiece. Now Beacon, Now Sea is a coming of age story set in a place whose time was coming to an end as told through the comforting, confounding, and crushing story of Sorrentino's relationship with his mother. I had to reach back to Nabokov's Speak, Memory to find another memoir as powerful and poignant as this one and to find one that as profoundly explores the art of memory." — David Treuer, author of The Heartbeat of Wounded Knee

"In memoirs by great novelists any distance between those arts shrinks, imagination and testimony lending prose the clarity of an engraving. Put Christopher Sorrentino's accomplishment in Now Beacon, Now Sea with Roth's Patrimony, Schwartz's Leaving Brooklyn, Gornick's Fierce Attachments, Conroy's Stop-Time, books in which the necessity of commanding trauma onto the page has galvanized the language from within." —Jonathan Lethem, author of Motherless Brooklyn and The Arrest

"As irresistible as it is unflinching, Now Beacon, Now Sea is a family memoir, a literary memoir, an American memoir, a memoir about the nature of identity in our time — and if that means only Christopher Sorrentino could have written it, for all its singularity it does what riveting memoirs do: reveals not only its own secrets but ours as well." —Steve Erickson, author of Shadowbahn

"Few, if any, are the memoirs of mothers and sons that are as excoriating and unforgettable as Christopher Sorrentino's Now Beacon, Now Sea. Written equally in wrath and powerfully and patiently illuminated love, Sorrentino's account of filial anguish will linger long in memory. What an imperative contribution to the memoir form and to our literature generally. I could not admire this book more." —Rick Moody, author of The Ice Storm and The Long Accomplishment 

"Every genre, every form, has its strengths and weaknesses; the memoir, especially the contemporary American memoir, can fall into a default mode of progress narrative. One of the many accomplishments of Christopher Sorrentino's extraordinary new book is the way in which it refuses to sentimentalize, even slightly, its brutal material. Now Beacon, Now Sea is impressively astringent art."—David Shields, author of The Thing About Life Is That One Day You'll Be Dead and The Trouble With Men