Bitter Orange Tree (Hardcover)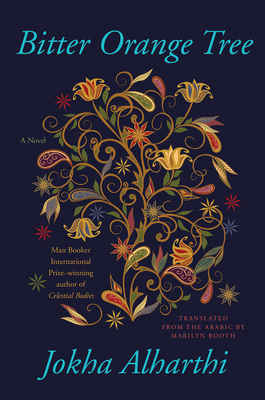 $26.00

Likely on our shelves now
Staff Reviews
---
A window into life in another part of the world, this is a fascinating story of a young woman remembering her family and relationships growing up in Oman while feeling isolated as a student in Britain. The memories of her family back home are intermingled with her trying, wanting, to find a life of happiness and freedom in the present.
— Anne
Description
---
An extraordinary novel from a Man Booker International Prize-winning author that follows one young Omani woman as she builds a life for herself in Britain and reflects on the relationships that have made her from a "remarkable" writer who has "constructed her own novelistic form" (James Wood, The New Yorker).

From Man Booker International Prize–winning author Jokha Alharthi, Bitter Orange Tree is a profound exploration of social status, wealth, desire, and female agency. It presents a mosaic portrait of one young woman's attempt to understand the roots she has grown from, and to envisage an adulthood in which her own power and happiness might find the freedom necessary to bear fruit and flourish.

Zuhour, an Omani student at a British university, is caught between the past and the present. As she attempts to form friendships and assimilate in Britain, she can't help but ruminate on the relationships that have been central to her life. Most prominent is her strong emotional bond with Bint Amir, a woman she always thought of as her grandmother, who passed away just after Zuhour left the Arabian Peninsula.

As the historical narrative of Bint Amir's challenged circumstances unfurls in captivating fragments, so too does Zuhour's isolated and unfulfilled present, one narrative segueing into another as time slips and dreams mingle with memories.
About the Author
---
JOKHA ALHARTHI was the first Omani woman to have a novel translated into English. Celestial Bodies went on to win the Man Booker International Prize and became an international bestseller. Jokha Alharthi is the author of three collections of short fiction, three children's books, and four novels in Arabic. She completed a PhD in Classical Arabic Poetry in Edinburgh, and teaches at Sultan Qaboos University in Muscat.

MARILYN BOOTH holds the Khalid bin Abdullah Al Saud Chair for the Study of the Contemporary Arab World at Oxford University. In addition to her academic publications, she has translated many works of fiction from the Arabic, most recently The Penguin's Song and No Road to Paradise, both by Lebanese novelist Hassan Daoud, and Voices of the Lost by Hoda Barakat. Her translation of Celestial Bodies won the Man Booker International Prize.
Praise For…
---
An Electric Literature Most Anticipated Title of the Year
A Ms. Most Anticipated Book of the Year

"Evocative . . . In Alharthi's world, it's not only the future that holds promise; the past has possibility and opportunities for revision, too." —Joumana Khatib, The New York Times Book Review

"[Alharthi] continues to demonstrate a deep sympathy for the ways women suffer and survive the vicissitudes of a society that gives them little agency. And fans will recognize Alharthi's fluid treatment of chronology and setting, once again gorgeously translated by [Marilyn] Booth. Alharthi, who earned a Ph.D. at the University of Edinburgh and now teaches in Oman, can simultaneously emphasize the universality of her characters' feelings and the unique cultural context of their experiences. Bitter Orange Tree is a story of mourning and alienation, and Alharthi has developed a tone that captures that sense of being suspended in the timelessness of grief." —Ron Charles, The Washington Post

"Imaginative . . . a bittersweet, non-linear exploration of social status and a young woman's agency." —Angela Haupt, A Time Best Book of the Month

"Alharthi keeps her reader emotionally invested in both women. She emphasizes their tight bond by switching between one character's past and the other's present and braiding together their experiences . . . An elegant meditation on remembering and forgetting." —Malcolm Forbes , Star Tribune

"In this novel of remembrance and regret, Zuhour, an Omani student at a British university, obsessed with the possibility of 'regaining or restoring just one moment from the past,' reflects on her grandmother, who has recently died . . . Much of the grandmother's life story takes place in the context of devastating waves of drought, inflation, and famine, and Alharthi marshals these elements to construct a mosaic of history with women's crushing vulnerability at its center." —The New Yorker

"From the first Omani woman to have a novel translated into English, this remarkable novel centers the evolution of one woman's agency, power and relationships." —Karla Strand, Ms.

"Alharthi probes family relationships and picks at the frayed edges where the heart and society want different things . . . [She] deftly describes the frustration of being between two cultures." —Catherine Bolgar, Hadara Magazine

"In a global literary landscape that has long centered on male authors working in English, Alharthi and Booth's work with contemporary Arabophone literature feels daring and exciting." —Anna Learn, Electric Literature

"In probing history, challenging social status, questioning familial bonds and debts, Alharthi's multilayered pages beautifully, achingly unveil the haunting aloneness of women's experiences." —Booklist (starred review)

"A gorgeous and insightful story of longing . . . The bittersweet narrative, intuitively translated by Booth, is chock-full of indelible images . . . This solidifies Alharthi's well-earned literary reputation." —Publishers Weekly (starred review)

"Alharthi, winner of the Man Booker International Prize for Celestial Bodies (2019), uses a dreamlike, nonlinear structure to show how the complications faced by a young Omani woman studying abroad merge with her remorse-filled memories of her very traditional surrogate grandmother." —Kirkus Reviews

"Bitter Orange Tree blazes with the strength of generations of Omani women—from the charcoal makers of the Arab gulf to the international students of a British residence hall. This mesmerizing novel is an illuminating, important work and Jokha Alharthi points her pen at some of the most harrowing circumstances facing women and girls across the world. I am grateful to Marilyn Booth for her translation of this exquisite book." —Kali Fajardo-Anstine, author of Sabrina & Corina

"Jokha Alharthi is a remarkable writer for whom my admiration grows with each work. Watching the lives of Zuhour and Bint Amir unfurl within Bitter Orange Tree was a pleasure, and Alharthi's prose in the capable hands of translator Marilyn Booth is as clear and refreshing as a cool glass of water." —Sara Nović, author of America is Immigrants

"A rich and powerful novel that showcases the interplay between memory and emigration and the precariousness of sisterhood in a world that encourages the domination of men, told in a sumptuous and incisive translation by Marilyn Booth." —Jennifer Croft, author of Homesick and co-winner with Olga Tokarczuk of The International Booker Prize for Flights

"Lyrical, elegiac, and poignant, a transcending read—like sitting by an open window at dusk as memories slip in, one by one, each radiating with life." —Akil Kumarasamy, author of Half Gods
Thank you for shopping local!